Thigh Augmentation Offers A New Way to Get Curves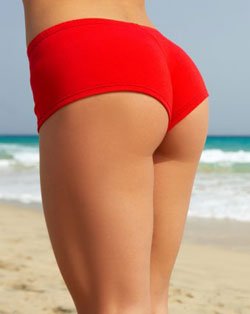 Curves are in. And cosmetic surgery can give you more curves, whether in the breasts, buttocks or even thighs.
For instance, RealSelf, a social media website for sharing information about cosmetic procedures, reported that in 2011 searches for butt augmentations on the site rose 39 percent, making it the "fastest moving topic on the site in terms of overall consumer interest."
With the rise of procedures like the Brazilian butt lift, in which a patient's own fat is transferred to enhance the shape and size of the buttocks, women are looking to enhance other areas as well.
Next Trend for Curves: Thigh Augmentation?
A study published recently in the American Journal of Cosmetic Surgery examined thigh augmentation, which uses a custom implant. The authors report that: "Breasts are getting bigger, buttocks are getting fuller, and there is increasing demand for a fuller, more curvaceous look to the thighs."
According to the study, 18 women received the implants to achieve a fuller appearance in the thighs. During the procedure, a custom-made lateral thigh prosthesis is surgically inserted to give more curve to the lateral thigh area.
The authors reported that all patients were satisfied with the procedure. There were no major complications during the study, and they concluded that the implants helped women achieve a fuller look in the thigh without significant risk.
Realistically, there are probably more women looking for less volume on their thighs. For them, a thigh lift might be the right procedure. A thigh lift reshapes the contour of the inner and outer thighs by removing excess skin.
Traditional Cosmetic Surgery for Adding Curves
Some of the most popular cosmetic surgery procedures have always been about giving women more curves. For instance, many women who are dissatisfied with the size, shape and fullness of their breasts often turn to breast augmentation.
A tummy tuck is a popular way for a woman to get a flatter stomach. It creates a smaller waistline, which accentuates curves above and below the waist.