Rancho Cucamonga Tummy Tuck (Abdominoplasty)
Our surgeons employ the latest techniques to help you enjoy a smooth, flat tummy and perfect belly button after pregnancy, weight loss, or the natural tolls of aging. Read on to learn more about our signature Inland Innie™
Your skin is an incredibly resilient organ, and it can do some pretty amazing things. Unfortunately, it does have its limits, no matter how hard you try to treat it right—and once your skin loses its natural elasticity, there's not much you can do to naturally help it "bounce back."
Big life events, like having a baby or putting on and then losing a significant amount of weight, can stretch abdominal skin beyond its capacity, resulting in loose skin on the tummy. This extra, stretched skin can make you look bigger than you are, cause chafing or skin inflammation, make exercising difficult or uncomfortable, and leave you feeling like a stranger in your own body—and sometimes, no amount of exercise or calorie counting can make a difference.
The staff was incredible and made me feel at ease and calmed my nerves, answered all the questions. My results are amazing and the post-op visits continue to help me. My confidence skyrocketed, I could fit in my old clothing and I feel more energy to exercise and eat healthy.Real Inland Costmetic Surgery tummy tuck patientRead more tummy tuck testimonials
Here at Inland Cosmetic Surgery, we work with patients from all walks of life who feel self-conscious or physically uncomfortable with drooping skin on the stomach. Our compassionate staff and highly trained surgeons work closely with every patient to design a treatment plan that addresses your concerns and gives you an outcome you'll love.
In the hands of an experienced surgeon, abdominoplasty can repair separated abdominal muscles and reduce excess, sagging skin.
Dr. Jacob Haiavy , Dr. Irene Tower, and Dr. Emma Ryan have years of combined experience helping patients by reshaping and recontouring the torso using a number of advanced surgical techniques to tailor treatment to each person's individual needs.
A tummy tuck, or abdominoplasty, helps improve loose skin, stretch marks, and painfully separated abdominal muscles due to pregnancy, loss of weight, or aging. With a full abdominoplasty, extra abdominal skin and fat are removed from the lower portion of the tummy below the belly button, the abdominal muscles are tightened, and the belly button is repositioned in the new tightened skin. Some patients might get a better result from a combination of abdominoplasty and mild liposuction, although it is inadvisable to perform aggressive liposuction at the time of an abdominoplasty.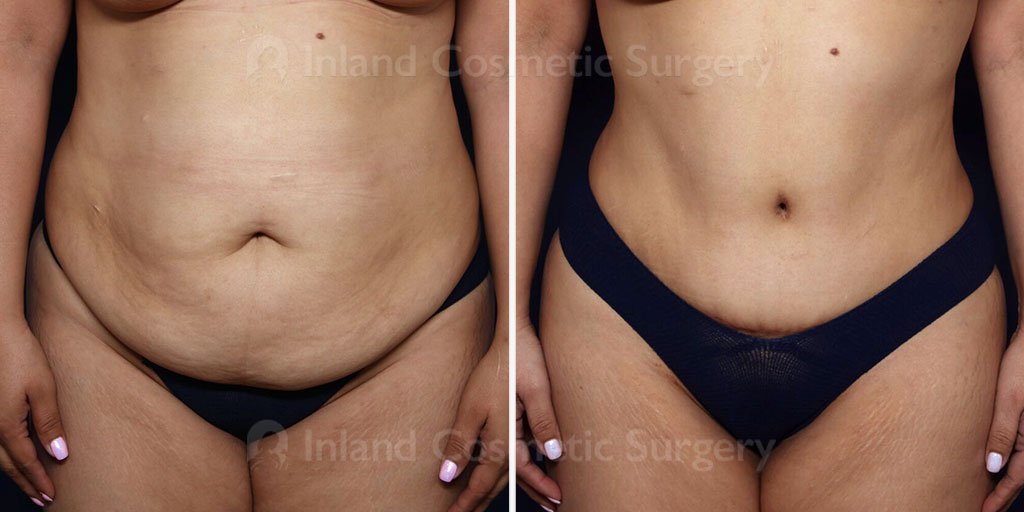 Will my belly button look normal afterwards? Learn more about the Inland Innie™
The two most common concerns about having a tummy tuck we hear from patients during their consultation are the scar from removal of the skin and the scar around the belly button. The lower abdominal scar depends on the amount of loose skin to be removed and is usually from hip to hip, where it is hidden in the bikini line. A scar around the belly button, however, can be difficult to hide, especially if not done correctly or if the patient does not scar well.
We perform tummy tuck surgery with our signature Inland Innie™ for natural-looking results
A natural aesthetic looking belly button, what we call an "innie," has a hood on top and depth in the center and lower portion. At Inland Cosmetic Surgery, we have developed a technique of recreating the belly button in the most natural innie shape, with the scar pulling in and under the hood so that it is not readily visible. Our patients are very happy with our Inland Innie™ belly button style, and we often get compliments and referrals because of it.
Visit our Before & After Gallery
View Tummy Tuck Results and Save your Favorites >
Our aim is natural-looking results with a thin, low-placed scar
If you are considering cosmetic surgery, it's likely your number one priority is looking natural—so it's ours, too. Most tummy tucks require an incision placed along the base of the abdomen; you can count on our cosmetic surgeons to carefully place these incisions low on the abdomen, and to employ precise surgical techniques that minimize strain on the incision sites and promote optimal healing.
After surgery, we support a healthy healing process by guiding you through the post-operative recovery period: to put your safety and results first, we encourage you to move gently at first, but to avoid certain activities that strain incisions and interfere with a speedy healing process. We are also here to advise you on scar care, once your incisions are healed, to promote minimal scarring over time.
Is this procedure right for me?
During your private consultation at our cosmetic surgery practice in Rancho Cucamonga, one of our experienced cosmetic surgeons will examine your area of concern and make expert recommendations on the best course of treatment to meet your goals.
Typically, nonsmoking patients who are at or near their goal weight, in general good health, and have the following concerns are good candidates for tummy tuck:
Sagging abdominal skin following weight loss
Stretched stomach muscles from pregnancy
Desire for a thinner profile
Desire to look younger and fitter
Desire to fit into clothes better
Abdominal fat that is resistant to diet and exercise
In this video, Dr. Haiavy shares the ins and out of this body contouring surgery, including how to get a natural-looking belly button with his signature Inland Innie™ technique and what to expect during recovery.

Video transcript »

"Hi, I'm Dr. Jacob Haiavy, cosmetic surgeon at Inland Cosmetic Surgery here in Southern California. So what is a tummy tuck? A tummy tuck is a procedure where we remove all the loose skin below the belly button and just above the pubic area. We usually tighten the muscles in the abdomen and reconstruct a new belly button for the patient. Oftentimes we'll combine the tummy tuck procedure with liposuction just for contouring so we can create a nicer waist and better silhouette for the patient and overall better contour. So when we talk about tummy talk, What patients are most concerned about is the scar, pain after surgery and how their belly button looks. First of all the scar is really very low. It's in the bikini area and usually we perform tummy tucks on patients that have had children before or C-sections and have had at least one birth or they've lost a lot of weight, like post massive weight loss patients where they've lost over 100 pounds and have a lot of loose skin. So we position the scar really low in the bikini area and if you have a C-section scar, guess what, we're going to get rid of that scare for you so in the end you will have only one very fine line at the bottom. There's going to be a scar around the belly button but we have a very nice way of doing the belly button. We actually have trade marked it because it looks so natural. We call it the Inland Innie™ and the Innie is a special technique where we suture and reposition your belly button so it looks very natural. It looks like a very nice natural line and the scars all fall inside so at the end of a year when you're completely healed nobody can even see that scar. It looks very natural. We've had a lot of compliments on that. And in terms of pain control we're constantly studying what we're doing and we have done so many modifications here at Inland Cosmetic Surgery where we give patients either IV Tylenol or pill Tylenol prior to surgery. We know that that reduces the pain by 70 percent and reduces the recovery time. We also have a special way of injecting prior to surgery and during surgery so the patients are very comfortable. The patients also get to choose a specific injection that lasts at least 72 hours afterwards and numbs the area of the muscles for additional pain control and comfort after surgery. All of those measures have really helped our patients achieve really better results overall better comfort and easy recovery after a tummy tuck procedure. So what's recovery like after a tummy tuck? Usually I'll tell our patients that you need at least two to three weeks off of work. The first week you're gonna walk a little bent over because everything feels super tight you feel like you've done a thousand sit-ups in the gym. It's easier to walk a little bent over, so sometimes we'll lend you a walkers. It's easier to lean on something and walk. Half of our patients will use it; the other half will return it the next day, but it is easier to lean on something. Then after the first week you can straighten up and things get easier by the second week. You get rid of the drains and patients can really drive around no problem and they come into the appointments on their own. I would say for most people if not they're not doing
any heavy lifting pushing or pulling at their job they can be backed within two or three weeks. So if you want to book a consultation with us you can either call the office at 909-987-0899 or just email us through our website which is inlandcosmetic.com. Just send an inquiry and we'll respond to you right away or you can message us on Instagram and we'll be happy to get back to you. Thank you so much for watching this video and stay tuned for more content like this. If you have questions please send them to us!" – Dr. Jacob Haiavy, cosmetic surgeon
How much does a tummy tuck cost?
The cost of a tummy tuck in Rancho Cucamonga will depend on the extent of your procedure. During your consultation with one of our cosmetic surgeons, they will sit down with you one-on-one, discuss your aesthetic goals, review all of your options, and come up with a cost estimate. We also have financing options available to make paying for your procedure as seamless as possible.
Your tummy tuck options at Inland Cosmetic Surgery
Because every body is unique, there is no one-size-fits-all approach to abdominoplasty. After assessing your concerns, we'll determine which type of tummy tuck will give you an optimal outcome.
Mini tummy tuck
Typically, a mini tummy tuck is a good choice for patients who are mostly bothered by a bit of sagging skin and excess fat below the belly button but have good underlying muscle tone. Although abdominoplasty remains a popular option for treatment of excess abdominal skin and fat with muscle laxity, liposuction with dermolipectomy (skin excision) can achieve similar results with less recovery and a shorter scar.
With this "mini tummy tuck" procedure, fat is removed from the abs, hip, and waist regions with tumescent liposuction, and skin is removed from the lower portion of the tummy. The belly button remains in place and does not need to be repositioned. The muscles are not usually tightened with this procedure, although it could be done if necessary.
While this can be a great option for a small number of patients, most of our patients benefit most from a traditional, full tummy tuck.
Full tummy tuck
Traditional tummy tuck surgery helps tighten sagging skin on both the upper and lower abdomen, improves the appearance of the belly button, reduces stretch marks, and repairs diastasis recti (muscle separation). This is option is best suited to our patients who have had children or lost weight.
During this procedure, a low, horizontal incision is made above the pubic bone from hip to hip, where it is easily concealed by bikini-style underwear. Depending on your needs, an additional incision will likely be made around the belly button to sculpt your Inland Innie™. Through these incisions, your cosmetic surgeon will tighten and repair muscles, remove skin and fat, tighten remaining skin, and reposition the belly button so it looks natural.
This procedure has changed my life. I literally feel a weight lifted off my shoulders. I'm back to the way I was before having babies and it has helped my self esteem. I am no longer so self conscious about hauling all this excess skin and I feel great, no regrets.Real Inland Cosmetic Surgery tummy tuck patientRead more tummy tuck reviews
Extended tummy tuck
For patients that have lost a lot of weight through diet and exercise or from weight loss surgery, the excess skin in the lower abdomen can extend beyond the hip bones.  In addition, laxity of the skin in the thighs, pubic area and other parts of the lower body may exist.
With the extended tummy tuck procedure, our surgeons address both the abdomen and these other areas to provide the most aesthetically pleasing, proportionate outcome. The incision is a bit longer than the standard tummy tuck incision, which allows us to improve the tummy, lateral thighs, and mons and pubic region for a smooth outcome. An extended tummy tuck also includes an Inland Innie™ for natural-looking belly button sculpting.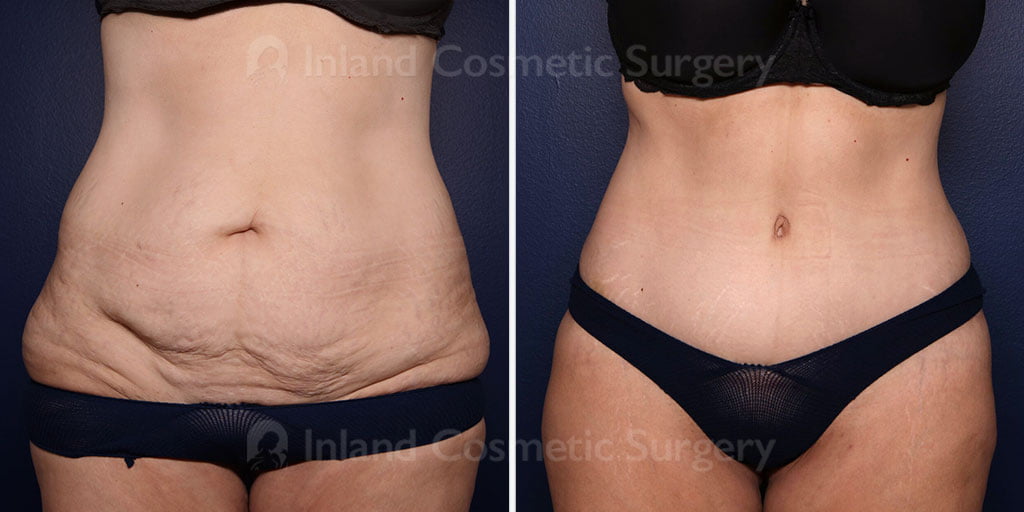 Get a full-body transformation with a mommy makeover
A large number of our Rancho Cucamonga tummy tuck patients are moms who are unhappy with the appearance of their bodies after pregnancy and childbirth. In addition to addressing concerns on the torso, many of these mothers opt to have other procedures to restore their pre-baby bodies.
A mommy makeover is a customized set of procedures that address some of the most common post-pregnancy body concerns, such as excess skin on the tummy, stubborn fat deposits, and deflated or "droopy" looking breasts. Most mommy makeovers include a tummy tuck, liposuction to reduce diet and exercise-resistant fat and recontour curves, and a breast augmentation or breast lift to lift and restore a more youthful, perky look to breasts that lost shape and fullness after pregnancy and breastfeeding.
Recovery
Tummy tuck surgery is easily one of the most popular procedures at our practice—and our tummy tuck patients love the dramatic improvement they see after surgery—especially their natural-looking Inland Innie™. Because tummy tuck surgery involves a pretty extensive reshaping of the abdomen and repair of underlying muscles, it's important to properly prepare yourself for recovery. We will go over all post-op care and instructions during your consultation.
At Inland Cosmetic Surgery, we are in tune with our patients' pain control. All our patients receive IV Tylenol prior to start of surgery. Through clinical research done in our facility, we found that administering IV Tylenol prior to surgery actually reduces pain and shortens post-op recovery. Additionally, patients have an option of getting a pain pump or an injection of a long-acting anesthetic that lasts up to 72 hours to ease their recovery. Your ab area will be swollen, and you may have drains placed to help keep fluid from settling for the first week.
Right after surgery, it's normal to feel quite uncomfortable. We will also prescribe pain medication to help manage your comfort, and most of our patients switch to an OTC pain reliever after about a week.
You'll want to make sure you have some help around the house and with childcare, as you may have some difficulties dressing and moving about. Expect to take about two weeks off of work—perhaps longer if you work a more physical job.
For the first four to six weeks, you'll need to avoid lifting, any strenuous activity, and carrying anything over a few pounds so you don't strain your healing tummy tuck incisions or abdominal muscles. While we encourage light walking for circulation after the first day, working out is a no-no for the first three to four weeks, at which point you'll need a sign-off from your surgeon.
For some of our patients we may recommend our post-surgery lymphatic drainage massage therapy treatments performed by our licensed massage therapist. This unique type of massage can help minimize post-surgery swelling and support a healthy recovery.
We'd love to walk you through your options at a private consultation in Rancho Cucamonga
Together, we will discuss your concerns and explain the details of tummy tuck cosmetic surgery during your consultation. There are a number of options to consider, including whether or not another body procedure should be performed at the same time. We will work with you to determine a surgical plan that best suits your needs to create the results that you hope for.
Contact us today to schedule your consultation so we can get started on helping you feel more comfortable and confident.