7 Easy Ways to Make Your Skin Merry & Bright This Holiday Season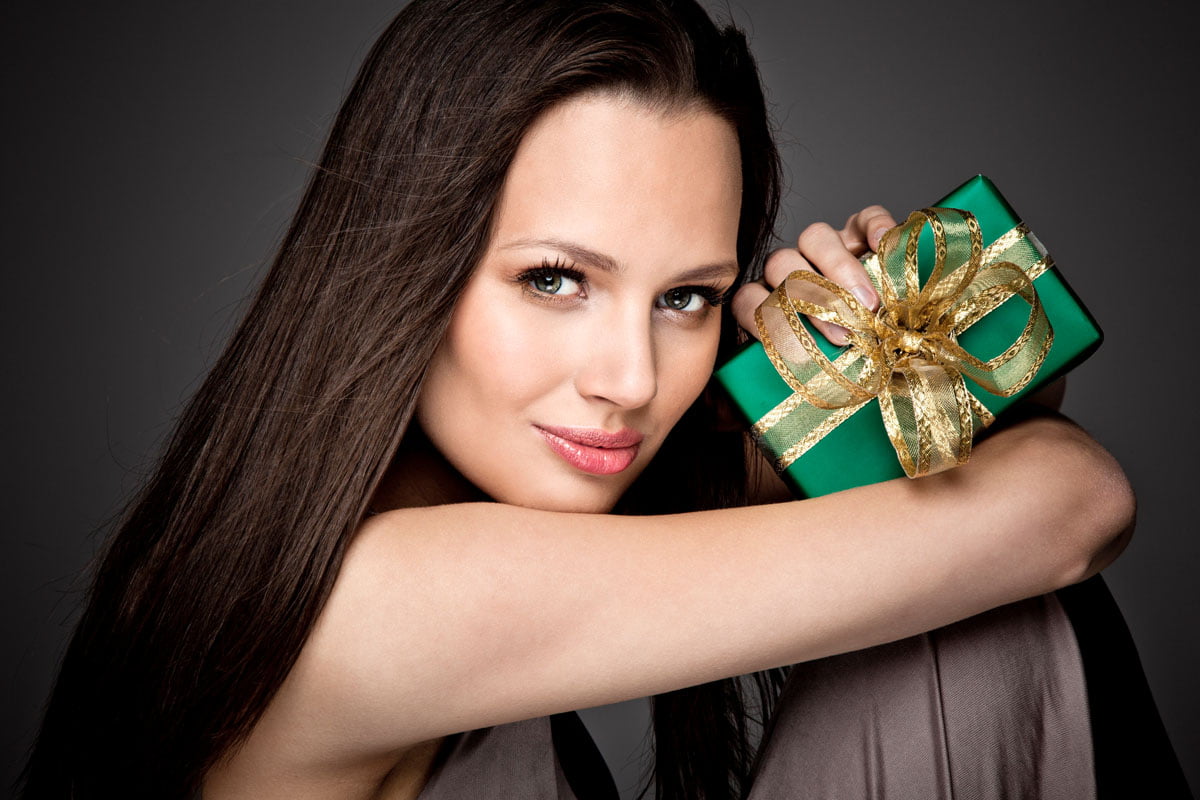 Holiday party season has arrived! You've got your cute cocktail dress, some dazzling new heels, and gorgeous statement earrings all ready to go. Don't forget about the other essential component of your knock 'em dead holiday look—radiant, flawless skin!
Think it must be too late? Actually, there's plenty you can do to revamp your winter skin care routine and get a glow on in time for the holidays. Check out these easy, effective ways to improve your skin:
1. Exfoliate to reveal brighter, smoother skin.
Clearing away dirt and dead skin cells is the first step to a brighter complexion, and the winter months are a great time to do it.
For light, daily exfoliation, look no further than your kitchen! Almonds and sugar are gentle abrasives to leave skin feeling smooth and looking bright. Just mix 1 cup white sugar, ½ cup brown sugar and ½ cup ground raw almonds (pulse in a food processor until fine) with 4 Tbsp. coconut or olive oil in a bowl, then store in a glass jar. Apply a small amount to clean, dry skin, taking care to avoid the eyes, then rinse with warm water.
Professional exfoliating treatments such as microdermabrasion prime skin to better absorb skin care products, helping them work more effectively, so you need less product to see the results you desire.
To reduce sun damage, fine lines or other skin imperfections, you'll need professional help. In-office treatments such as microdermabrasion or an Ultrasonic Facial can slough away dull, dead skin and stimulate collagen production without heat or chemicals to leave skin smoother, firmer and more even in tone with no downtime. Bonus: professional skin resurfacing can help skincare products work more effectively, so you need less product to see the results you desire.
2. Eat across the rainbow.
A diet rich in fresh, colorful fruits and veggies will help you keep your waistline in check plus give your body a boost in age-fighting antioxidants. Some ideas: nosh on carrots before you head out to holiday parties, add mixed berries to your cereal or breakfast smoothie, toss a handful of chopped, leafy greens into pasta sauce, or swap your daily gingerbread latte for green tea.
3. Get a dewy glow and minimize fine lines with daily moisturizer.
One of the easiest ways to make your skin look young and healthy is to keep it hydrated. For a simple DIY treatment, we love an avocado-honey mask. Throw 3 Tbsp cream, ¼ of an avocado, and 1 Tbsp honey into a blender, puree, and then pat on your face, avoiding the eyes. Leave on for one hour, then rinse well.
To improve very dry skin or help slow visible aging, you'll need more than a DIY mask. A quality moisturizer can also help minimize fine lines for softer, younger looking skin every day. We recommend Radiant C Moisturizers, which are safe for every skin type and contain antioxidants to replenish moisture, and lock in skin's natural hydration for up 8 hours.
4. Get your beauty sleep (yes, it really works).
While one night waiting up for Santa won't do much harm, skimping on sleep night after night can show in the form of dark circles, puffy eyes, and a dull complexion. Sleep is your body's time to restore and repair cell damage, helping you feel energetic and your skin look bright and healthy, so prioritize bedtime during the holidays and year-round.
5. Brew a basil toner to calm acne prone skin.
Did you know that basil has anti-microbial properties that can help banish blemish-causing bacteria from your skin? If you have acne-prone skin, a simple basil tea may help keep pimples in check. Just pour 1 cup of boiling water over 3 Tbsp. dried basil leaves, let cool, and strain the liquid into a spray bottle. Spritz onto skin prior to cleansing as a fragrant, acne-fighting toner.
If you're battling moderate to severe acne, an in-office treatment is your safest bet for effective results. A salicylic acid peel or clarifying acne facial can simultaneously exfoliate, cleanse pores, and reduce bacteria to calm inflammation and reduce outbreaks. Our pore-refining pads can also help keep breakouts under control.
6. Play some reindeer games (or just go to the gym most days).
Exercise boosts your mood, revs up energy levels, and reduces stress. It also improves circulation, helping your skin get all the age-fighting nutrients it needs to stay healthy and youthful. But don't take our word for it; here's the science behind it.
7. Don't forget your lips! Exfoliate, moisturize and protect.
Cold temps, dry air, and wind can be hard on the sensitive skin of the lips. Incorporate lip care into your winter skin care routine for soft, kissable lips all season long. For a DIY lip scrub that also makes a great stocking stuffer, check out this Cinnamon Lip Scrub, which also includes a recipe for a homemade lip balm. Moisturize and protect with a high quality SPF lip balm; a knowledgeable skin care professional can help you choose a product that meets your needs.
If aging lips are an issue, try an injectable filler such as Restylane Silk, Juvederm, or Volbella to banish vertical lip lines or plump your pout for 6 months or more.
How to get more flawless skin in a hurry: see a skin care pro.
To quickly and dramatically diminish age spots, fine lines and other imperfections, there's no substitute for working with an experienced, licensed skin care professional. If you're in the Inland Empire, come see our experienced Rancho Cucamonga skincare team for a consultation. We'll help you develop a plan that includes both in-office treatments and at-home skin care products that are personalized to your skin type, budget, and goals.