Is dermaplaning painful? Answers to 9 top dermaplaning questions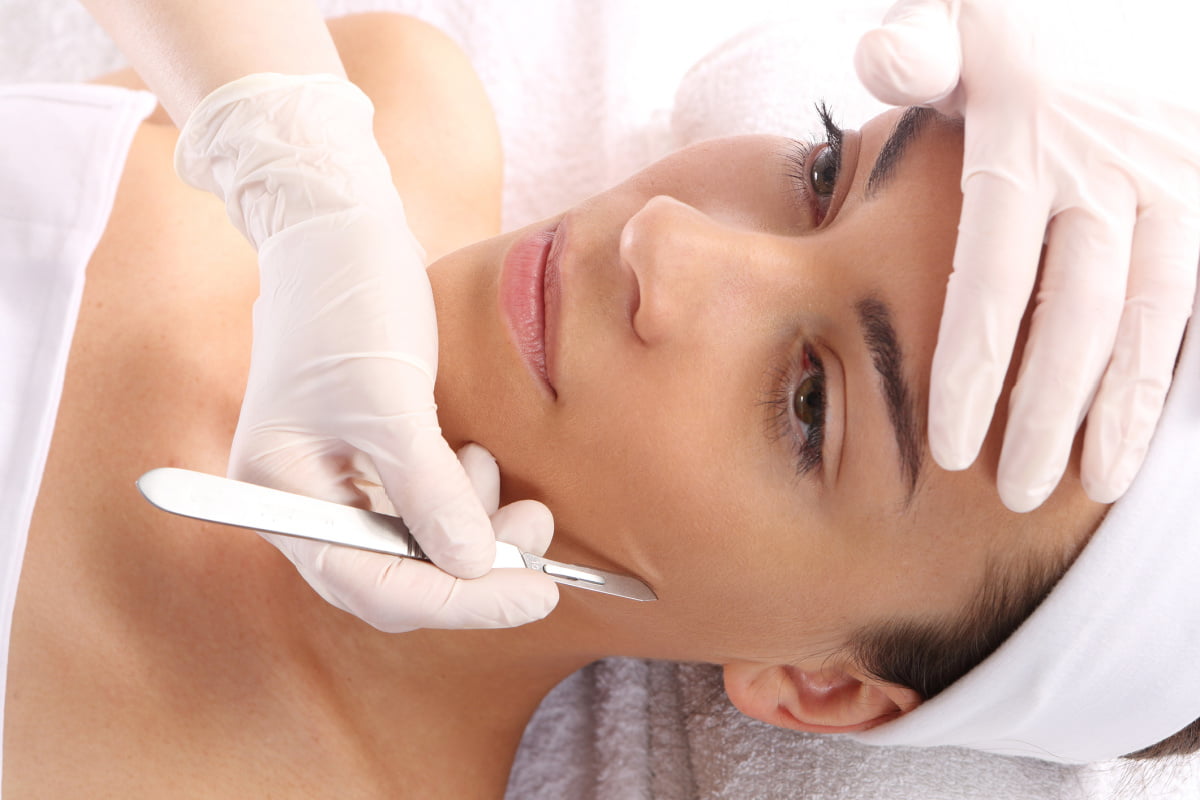 Dermaplaning is one of the most popular treatments we offer at Inland Cosmetic Surgery's Ahava Medspa in Rancho Cucamonga. With immediate results and no down time, it's easy to see why clients choose this option to instantly revive a dull complexion and reveal smoother, healthier-looking skin.
With a surgical blade and experienced eye, our highly-trained providers will gently sweep away peach fuzz and layers of dead skin cells. The radiant skin underneath will allow your skincare to penetrate deeper and for makeup to lay beautifully on the skin. This process promotes healing and increases the natural production of collagen and elastin so the skin benefits continue even after your appointment.
In this blog, we answer 9 of our patients' most-asked questions about this popular skin treatment.
Is dermaplaning painful?
No, when done properly, dermaplaning is painless. In fact, many patients find this treatment to have a soothing effect as the skin is rhythmically swept in short, gentle strokes. Keep in mind that choosing a licensed provider will ensure your experience is comfortable and the best results are achieved.
Is dermaplaning just shaving?
No, dermaplaning is a deep exfoliation treatment performed by a skilled, licensed professional. The surgical-grade blade removes up to two weeks of dead skin cell buildup along with removing peach fuzz. While shaving can also remove peach fuzz, it will not achieve the level of exfoliation that is experienced with dermaplaning. Note that both methods cut the hair straight across, leaving a blunt edge that may feel sharper at first, but any slight "stubble" you may feel is temporary and not indicative of increased facial hair growth.
Does hair grow back thicker after dermaplaning?
Absolutely not! Like we mentioned in the previous answer, dermaplaning leaves a straight edge on the hair shaft. As it starts to grow back, the hair may temporarily feel thicker because of the blunt tip. It will soften as the hair continues to grow. Dermaplaning does not reach the hair follicle and has no effect on how the hair grows. Your hair will remain the same color and texture it was before it was dermaplaned.
Dermaplaning does not reach the hair follicle and has no effect on how the hair grows.
Can I alternate microdermabrasion and dermaplaning?
You can; just be sure to use the same trusted medical spa provider for all of your skin treatments and follow the recommended intervals between procedures—your skin needs time to renew itself and reap the benefits of treatment. Also note that you'll see differing results from each as microdermabrasion does not remove vellus hair (peach fuzz), but rather deeply exfoliates with minute abrasions and gentle suction. With the help of your aesthetician, pay attention to the benefits you see from each option so you can make educated choices about which treatment will best serve your skin in any given season.
Can men get dermaplaning?
Yes, men can experience the same benefits from dermaplaning. You should shave any area you would like treated the day of your appointment. If you would like to keep some facial hair, we can exfoliate the forehead, face, and neck areas. Avoid shaving any exfoliated areas for a week after treatment. Dermaplaning will also have no effect on how hair grows back for men.
Can you get dermaplaning while pregnant?
Yes, because it removes only the top layers of skin without the use of chemicals, it is considered safe for pregnancy. Still, it is very important that you disclose your pregnancy to your provider during your consultation so that they can mitigate any unnecessary risks.
Is dermaplaning safe for rosacea?
No, dermaplaning is not the best treatment option for patients with rosacea: the process could further aggravate the skin. If you have inflammatory skin conditions such as rosacea or eczema, or active acne breakouts, dermaplaning may not be the right choice for you. This is another reason why it is so important to find a dermaplaning provider that works under the supervision of a qualified board certified physician. (At Ahava Medpa in Rancho Cucamonga, our skin experts will carefully evaluate your skin and help you determine which treatment options will provide optimal benefits.)
Dermaplaning is not the best treatment option for patients with rosacea, as the process could further aggravate the skin.
Can I use retinol before dermaplaning?
No; we recommend avoiding retinoids 5-7 days prior to and after dermaplaning treatment to avoid over-exfoliating the skin. Over-exfoliation compromises the skin's natural barrier as sebum is stripped away and cell turnover is accelerated beyond what is healthy.
Can I do dermaplaning at home?
No; the instrument used to exfoliate the skin is essentially a scalpel and thus dermaplaning should only be performed by an experienced professional. If not done properly, cuts, scrapes, inflammation, and scaring pose a considerable risk. Our Ahava Medpa team in Rancho Cucamonga is highly-trained and can be trusted to perform this procedure safely and provide outstanding results.
Dermaplaning in Rancho Cucamonga
Ahava Medspa at Inland Cosmetic Surgery is fully equipped to help you achieve beautiful, healthy skin. Our medspa team is highly-experienced and passionate about providing patients with safe and effective treatments with proven results. We would love to meet with you to answer any questions and help you determine if dermaplaning is the right treatment for you. Schedule a consultation with our skilled team of providers online or call the office at (909) 987-0899.