Visit our Before & After Gallery
View Liposuction Results and Save your Favorites >
Am I a good candidate for liposuction surgery?
If you're wondering if a liposuction treatment is a good choice for you, your best resource is the expertise of a fellowship trained cosmetic surgeon and diplomate of the American Board of Cosmetic Surgery. We offer private consultations for liposuction in Rancho Cucamonga to help patients explore which options are most appropriate for them, discuss any concerns they may have about surgery, and get to know our team and experienced surgeons, Dr. Jacob Haiavy, Dr. Irene Tower, and Dr. Emma Ryan.
Typically, anyone who desires a slimmer physique, has adequate skin elasticity, and is in good health is a good candidate for liposuction. Liposuction is a great solution for those who are looking for a proportionate body contour but have struggled with diet and exercise-resistant pockets of fat.
Treat a variety of areas
Liposuction can be used virtually anywhere on the body, including:
Thighs
Buttocks
Hips
Abdomen
Neck and jowls
Arms
Back and bra rolls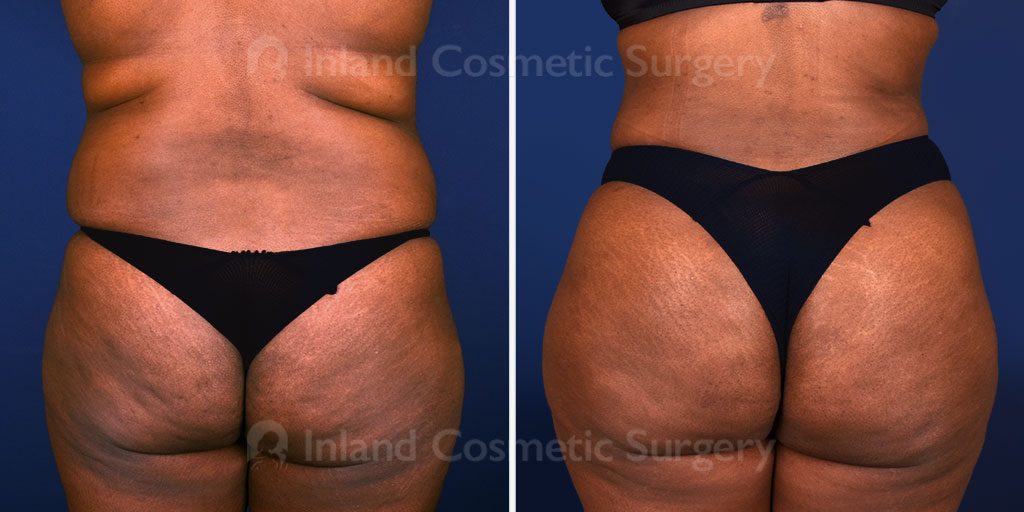 How is fat removed during liposuction?
Liposuction is a relatively straightforward and simple procedure in the hands of one of our experienced cosmetic surgeons. Depending on where your problem areas are and how much fat needs to be removed, your procedure will be performed either with local anesthesia or general anesthesia. During the treatment, small, inconspicuous incisions will be made around the area to be treated, through which a special, hollow tube called a cannula will be inserted and used to suction out fat.
Incisions are then steri-stripped closed and dressed with surgical bandages. After a brief recovery in our Rancho Cucamonga cosmetic surgery center, you'll be allowed to return home with a designated driver.
Combining liposuction with other procedures
One of the reasons liposuction is so popular is that it pairs well with a wide variety of face, breast, and body procedures. In many cases, liposuction provides the extra contouring that takes results to the next level. Here are some procedures that pair well with liposuction:
Breast augmentation
Breast augmentation uses implants or a breast lift technique to improve the shape, size, and fullness of your breasts. To further improve your results and enhance your new look, liposuction can be used to target stubborn fat in areas resistant to diet and exercise. Many breast enhancement patients opt for liposuction to contour the waist or abdomen—liposuction can also be used to remove fat in the arm pit and bra line areas.
Tummy tuck
A tummy tuck, or abdominoplasty, helps improve loose skin, stretch marks, and abdominal muscles that have separated due to pregnancy, weight loss, or aging. A tummy tuck is a phenomenal procedure for anyone wishing to remove excess skin and regain that highly-coveted hourglass figure. Liposuction is often paired with tummy tucks to achieve stellar 360-degree body contouring results.  Tummy tucks are primarily focused on treating excess skin, and only removes a limited amount of fat, so liposuction is a great add-on for those who desire more fat removal.
Mommy makeover
Many mommy makeover patients choose to add liposuction to complete their full-body transformation. Liposuction can treat areas that are not addressed in a tummy tuck or breast surgery, such as the thighs, arms, or bra line. Liposuction can also provide additional contouring to further enhance the results of those procedures.
Brazilian butt lift
A Brazilian butt lift is a surgical body contouring procedure that has grown significantly in popularity in the past decade. During a BBL, your cosmetic surgeon will use fat harvested from other areas of your body and then carefully inject it into the buttocks. Because it uses your own natural fat to enhance your curves, this procedure allows you to both slim down a trouble area like your back, bra rolls, or tummy as well as add volume and shape to the buttocks. During a Brazilian butt lift, your cosmetic surgeon will use liposuction to remove excess fat from a harvest site on your body, often the abdomen, thighs or flanks, taking care to follow the natural curves of your body and sculpt a beautiful result.
What is liposuction recovery like?
Most of our patients are surprised to find that liposuction recovery is relatively quick and comfortable after the initial recovery period. You can expect to be moving immediately after your surgery, missing only about four to seven days of work as long as your job isn't strenuous.
Some discomfort is normal, particularly at the incision sites and surrounding areas; we will prescribe pain medication to help you manage this discomfort. Normal activities and exercise can be resumed in about three weeks. We will also provide you with post-operative care instructions to help you have a quicker recovery time.
For some of our patients we may recommend our post-surgery lymphatic drainage massage therapy treatments performed by our licensed massage therapist. This unique type of massage can help minimize post-surgery swelling and support a healthy recovery.
Long-lasting results
You will be able to see the full benefits of your liposuction treatment over the course of the next six to twelve months.