American Academy of Cosmetic Surgery Holds Annual Scientific Meeting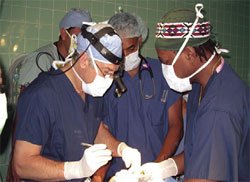 A new president was elected by the American Academy of Cosmetic Surgery (AACS) at its annual meeting in January, during which scientific sessions focused on cosmetic surgery advances.
Dr. Gerald Edds, MD, FACS, was officially inducted as the 2012 president at the meeting in Las Vegas.
"To be elected president of the leading organization for cosmetic surgeons worldwide is an incredible honor," said Dr. Edds. "The AACS remains the trusted source for the highest quality training and continuing medical educations for doctors practicing cosmetic surgery. We will continue to set the standard in these areas and expand our presence internationally."
The AACS's 28th annual scientific meeting attracted record attendance, with more than 700 medical professionals.
Dr. Haiavy was director of the Advanced Topics in Breast Surgery session, along with Dr. Edds. Dr. Haiavy also presented on "Revision Breast Surgery" and "Trans Umbilical Breast Augmentation: Procedure Pearls and Pitfall."
Dr. Edds said that this year's meeting focused on the education mission of the AACS to advance cosmetic surgery and quality patient care by featuring sessions customized for each specialty within the field, focused on best practices, practice gaps, patient safety and quality improvement.
Cosmetic surgeons could attend sessions on a wide range of cosmetic surgery topics, including: Advanced Topics in Body Contouring and Post-Bariatric Surgery; Rhinoplasty and Otoplasty; Blepharoplasty and Browlift; Advanced Topics in Breast Surgery; and Advanced Topics in Face and Neck Surgery.
Keynote speakers came from around the world, including Dr. Jean Carruthers, of Vancouver, Canada, who is a pioneer of the cosmetic use of botulinum A exotoxin and Dr. Luitgard Wiest, of Munich, Germany, a renowned dermatologist.
To learn more about the American Academy of Cosmetic Surgery, visit www.cosmeticsurgery.org.