Meet Cosmetic Surgeon, Irene Tower, MD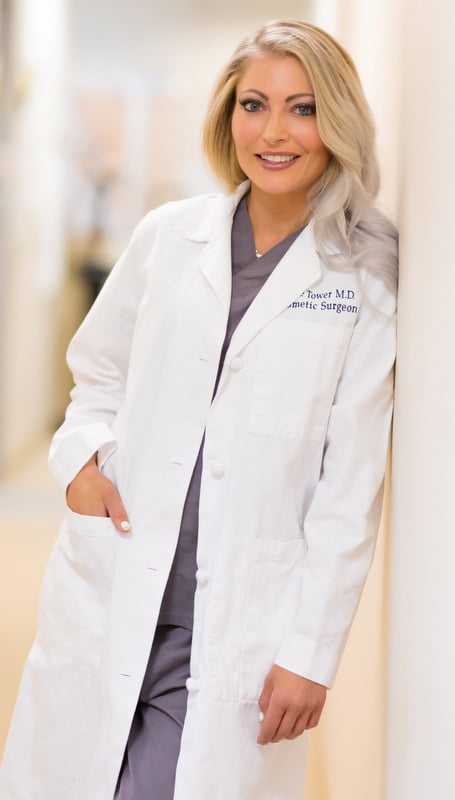 Specializing in body contouring & breast enhancement to help patients feel fabulous, confident, and comfortable
Dr. Irene Tower is an associate surgeon at Inland Cosmetic Surgery specializing in the latest surgical techniques for body reshaping, breast enhancement, and facial rejuvenation.
As a female cosmetic surgeon and a mom, Dr. Tower personally understands the tolls that aging, childbearing, and stress can take on the body, and she is passionate about helping patients feel comfortable and confident in their appearance at any age. Deeply devoted to helping her patients enjoy optimal results and lasting benefits after their procedures, Dr. Tower incorporates the art of exercise, nutrition, and healthy lifestyle habits into her treatment plans.
From the first time I met Doctor Tower I was very comfortable. I found the fact that she is also a mom very comforting, she knew exactly what I was looking for from a breast lift surgery. She listened to exactly everything I had to say and she gave me some input on what she thought I would be happy with, couldn't have asked for a better surgeon.  Real Inland Cosmetic Surgery patient
Dr. Tower has become one of the most sought-after cosmetic surgeons in the Inland Empire for body contouring, both after weight loss and for fitness-minded patients who desire the detailed sculpting that diet and exercise alone cannot achieve.
Her procedure specialties at Inland Cosmetic Surgery include:
Meet Dr. Irene Tower
Education & Medical Training 
Dr. Tower was born in New Jersey to Romanian immigrant parents but raised in Houston, Texas. Growing up, she enjoyed the arts and spent most of her days crafting, drawing or sculpting. Even though her family was certain she would enter the world of arts as a career, Dr. Tower always dreamed of becoming a doctor.
She graduated with honors from The University of Texas with a Bachelor of Arts in Biochemistry and earned her medical degree from Texas Tech School of Medicine in Lubbock. During medical school, she developed a passion for performing surgery and went on to complete a six-year surgical residency at Allegheny General Hospital in Pittsburgh.
Visit our Before & After Gallery
View Patient Results and Save your Favorites >
Dr. Tower finished her training with a strong clinical and surgical skill set, having worked with a variety of difficult and extreme surgical cases. She worked alongside maxillofacial and plastic surgeons to perform over 1,000 surgical cases of the breast, abdomen, head and neck, including complex abdominal surgeries to repair large abdominal wall defects. Helping these patients restore both their function and appearance inspired Dr. Tower to pursue cosmetic surgery as a specialty.
Fellowship-trained in Cosmetic Surgery
Dr. Irene Tower is a diplomate of the American Board of Cosmetic Surgery. Following her residency, Dr. Tower was selected to complete a 12-month cosmetic surgery fellowship with Dr. Jacob Haiavy, where she furthered her expertise in cosmetic surgery for the face, breast, and body, in addition to non-surgical treatments. During her fellowship, Dr. Tower demonstrated such excellence in surgical skill and aesthetic talent that Dr. Haiavy invited her to join the practice as an associate cosmetic surgeon.
Dr. Irene Tower is a highly skilled, professional, and caring surgeon.Real Inland Cosmetic Surgery patient
Having been with Inland Cosmetic Surgery for many years now, Dr. Tower has developed a strong patient following in Rancho Cucomonga. She honors the trust that patients must impart when choosing a surgeon to help them look and feel better and takes pride in being approachable, kind, and empathetic to all patients and their concerns.
Dr. Tower and her family feel right at home in Southern California. Outside of her cosmetic surgery practice, Dr. Tower is passionate about health and fitness and makes time every day to hit the gym or complete a Spartan race!