Need a Perfect Pigment? Try Colorscience.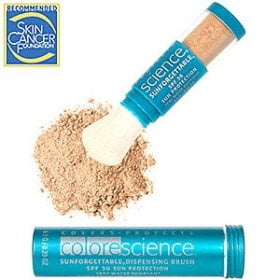 The ColoreScience Pressed Mineral Pigment Compact, is available in three shades, designed for great coverage, and provides lasting sun protection.
Does it contain sunscreen? Not in the sense that their other products do; rather than an actual SPF, the pressed pigment compact is made up of minerals like zinc oxide and titanium dioxide.
In addition, it has Vitamins A and E…which are antioxidants and give a renewed look to our skin. Plus, it's naturally-scented with rose geranium, lavender, and sandalwood.
Now, a word to the wise: I've found that this product blends more smoothly, and appears far more attractive, if it's applied to moisturized skin.
I hope you enjoy this new product we are carrying at Inland Cosmetic Surgery.  Come in and try the tester and let me know how you like it!  We are selling them for $60 each.