Surgeon Advises Against "Botox-Breast Lift"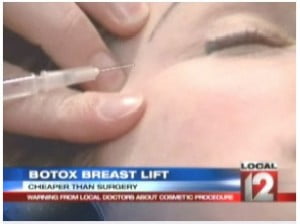 Local 12 news in Ohio recently aired this story to answer the question "What is a Botox Breast lift?"
Reporters explain that while the breast lift has documented results, and Botox is considered practical and effective, the so-called Botox Breast Lift is not a cost effective cosmetic treatment people should pursue.
The most common theory behind the Botox breast lift posits that injections of botulinum type a can relax muscles and affect a woman's posture in such a way that simulates lifting of the breasts.  Dr. Mark Mandell Brown, a cosmetic surgeon practicing in the midwest, answers the question conclusively:
"Rather than spend four or five or ten thousand dollars on a breast lift, lets do $200-$300 of botox. Are we just throwing away the 300 dollars then? Yes. Is there any research to support that this would be even remotely effective? No. In reality, the tissue's too heavy for that to happen."
You can see the video here in the local 12 media center.  To read more about breast lift surgery or botox in Rancho Cucamonga, see our website.