Allergan Assures Patients Its Silicone Breast Implants Are Safe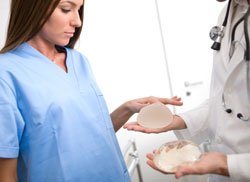 In the wake of a French breast implant scandal, Allergan reassured consumers about the safety of its silicone breast implants. Allergan's products are not part of the recent investigation.
Allergan released a statement after France's health minister recommended French women have their Poly Implant Prosthese (PIP) silicone gel implants removed.
PIP used cheaper industrial silicone instead of medical silicone for the implants to save money, according to investigators. The PIP implants were removed from the market last year and have never been used in the United States.
Estimates say that around 30,000 women in France have the PIP implants. Tens of thousands more women in Britain, Italy, Spain and other countries in Europe and South America also have had PIP implants.
Allergan's breast implant devices, including Natrelle, were not part of the investigation. Just last year, the FDA reaffirmed the safety of silicone breast implants in the U.S.
"All Allergan implants are manufactured at our state-of-the-art facility using silicone and saline that is approved for use in medical devices and are designed to meet all relevant national and international Quality Control Standards and Current Good Manufacturing Practice (CGMP)," stated Allergan's press release.
Allergan also offered specifics on the manufacturing of its implants: from start to finish, it can take up to 12 days to manufacture an Allergan breast implant, which undergoes almost 100 quality control tests.
Allergan's breast implants have been used for almost 50 years. Their gel-filled breast implants have been available in Europe since 1997 and received U.S. FDA approval in 2006.
According to Allergan, silicone gel-filled breast implants are among the most studied medical devices, with more than 3,000 studies supporting their safe use.
In addition to Allergan, Johnson & Johnson's Mentor also makes a silicone breast implant approved by the FDA.
Patients should recognize that while breast implants are safe, they are not lifetime devices. It's possible that at some point a patient may need to have an implant removed or replaced.
Learn more about breast augmentation in Rancho Cucamonga.