Your guide to breast implants in Rancho Cucamonga
Saline vs silicone, big or small, round or shaped—we can help you choose the best breast implants for you
Breast implants come in as many shapes, sizes, and varieties as natural breasts do, and figuring out all the details on your own can be overwhelming! Ultimately, the decision about what size and type of implant is the best choice is up to you—but you'll need a little extra help along the way.
With decades of combined experience, our cosmetic surgeons Dr. Haiavy and Dr. Tower can help you understand all of your breast augmentation options and choose the perfect breast implants for you. Taking your goals and natural anatomy into account, they'll make expert recommendations on what will help you achieve the look you want.
In the meantime, we've rounded up some key information about breast implants so you can start comparing your options.
Dr. Tower made me feel very comfortable from the moment I met her. I'm so thankful that she expressed the fact that I should go bigger in size for my body frame. If I hadn't listened to her I would have been disappointed in the size of my implants. She also took the time to answer all my questions and concerns.Real Inland Cosmetic Surgery breast augmentation patient
---
What's the difference between saline and silicone?
Saline breast implants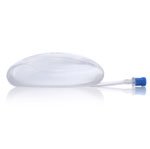 Composed of a flexible silicone outer shell and filled with sterile saltwater, saline breast implants are a great option for some patients—and until recent years, they were the most used type of implant in breast augmentation.
Saline breast implants are inserted into the breast pocket empty and then filled during surgery. This allows your surgeon the ability to adjust final implant volume during surgery so they can correct any asymmetry—and it means that a smaller incision can often be used.
Here are a few things to think about when you are considering saline breast implants:
If your implants rupture, your body will safely absorb the saline solution—and you'll know what happened immediately, as the implant will visibly deflate
Saline implants are easy to place and adjust since they are filled during surgery
Since they are inserted empty, they are a good choice for scarless breast augmentation techniques, like TUBA (transumbilical breast augmentation) or transaxillary (through the armpit)
They typically cost a bit less than silicone breast implants
Saline breast implants tend to be slightly firmer and heavier than silicone implants
For patients who are thinner or have little natural breast tissue, saline implants are more prone to visible rippling, or being able to see and feel your implants under the skin
Visit our Before & After Gallery
View Patient Results and Save your Favorites >
Silicone breast implants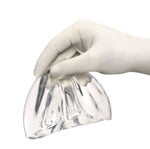 These days, most patients choose to have silicone breast implants for their natural look and feel. Rather than being filled during surgery with saline solution, silicone breast implants are pre-filled with a cohesive silicone gel that closely resembles the natural characteristics of breast tissue.
The latest generation of silicone breast implants are better and safer than ever, thanks to nearly 20 years of safety studies and advancements in implant technology. The medical-grade silicone used in breast implants is used widely in healthcare.
Here's what you should know as you consider silicone breast implants:
They're softer, smoother, and lighter than saline breast implants—and they look and feel more natural
Silicone gel implants won't have visible rippling, even in thinner framed women with smaller natural breasts
Highly cohesive breast implants, also known as "gummy bear" breast implants, have a lower risk of complication, such as rupture and leaking or the formation of granulomas
Silicone implants are only available to patients over 22 years old
A larger incision may be needed since silicone implants are pre-filled
If a rupture occurs, it can only be detected by MRI or ultrasound, which the FDA recommends having three years after surgery and then every two years after.
We only use smooth-surfaced silicone implants, which have an exceptional safety record. (The recently recalled silicone implants were pulled from the market due to rare complications specifically associated with their textured surface.)
---
What size breast implants should I get?
How to decide on your breast implant size
Every woman is unique, and your body type and personal preferences will dictate which size is best for your lifestyle and aesthetic goals. We would love to help you make this important decision!
Of course, your starting breast size is important to consider, as well as your chest wall (or bra band size) and shoulder measurements. This means that the size of implants that looks great on a friend of yours are likely to look quite different on you. For instance, a 300 cc implant could create a generous augmentation for a petite 5' tall woman with a narrow chest wall, while the same implants will only offer a modest-looking augmentation on a 5' 10" women with substantial shoulders—she might need 450cc implants to get a similar look.
Women who are very active tend to choose implants on the smaller side, while those who want a full look or want to balance out curvy hips choose medium to large implants for their frame. For a very generous augmenation, larger breast implants can be used if the following conditions are met:
You have a sufficient amount of available skin
Your breast fullness has decreased significantly over time
Choosing a size can be difficult for some patients. You may find it hard to imagine what it will feel like to have larger breasts. We're here to help and encourage you to come in for a private consultation, during which you can try on breast implant sizers and discuss other key options, including amount of projection (implant profile) and implant shape. We'll also provide an exact fee quote. We would love to help you determine an ideal implant size and shape.
---
Should I get round or shaped breast implants?
Round breast implants
By far the most popular option, round breast implants are circular in shape and help provide fullness to the upper breast—and despite their name, they look very natural and can be customized further by width and projection to fit your body proportions. Round implants are soft and have a consistent shape, which means they cannot "rotate" in the breast pocket or create issues with symmetry.
Round implants are a great option for most body types and can create a beautiful result whether you have very little natural breast tissue or were voluptuous pre-surgery. On very thin women, however, round implants can sometimes look more augmented than natural.
Though they aren't shaped, round implants are susceptible to gravity and will take on somewhat of a teardrop shape over time and after the implants have settled. Our patients have found that their round breast implants look very natural over time.
Shaped breast implants
Shaped implants, or anatomical breast implants, have a teardrop shape meant to mimic the natural shape of breasts: narrower at the top and fuller at the bottom. Because these implants have a molded shape, they are a bit firmer than round implants.
Because they are made with highly cohesive silicone gel, shaped breast implants are form-stable, very durable, and have a low rate of rupture. Over time, anatomical breast implants will maintain their shape.
We have found that women who have very little natural breast tissue benefit most from teardrop implants, which add shape and structure.
---
Come by for a private consult to get the insider info
Nothing can replace the value of talking with an experienced cosmetic surgeon, exploring your options, and getting to look and touch different breast implants (and even try them on for size!). Our superb surgeons, Dr. Haiavy or Dr. Tower, would love to help you find the best fit for you during a private consultation. Contact us today to get started!