New You Cosmetic Surgery Website Goes Live
New You, the official magazine of cosmetic surgery, launched a website earlier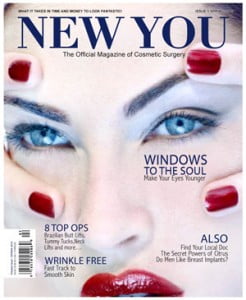 this week, offering resources for consumers to learn about skin health, physical fitness, nutrition and cosmetic surgery.
The articles this month look excellent, especially the piece by Dr. Mark Berman and the fitness article about posture by Maria Mercedes.
One page titled Inspired features several patient profiles in which men and women of different ages discuss the impact a cosmetic surgery procedure made on their lives. Another section is about "Achieving the Look" with cosmetic procedures. Featured articles discuss arm lift surgery, laser treatments, vein treatment, the tummy tuck, and the Brazilian butt lift.
At some point the site is supposed to include an area where readers can upload a photo to the site and use software to visualize results of a basic procedure, but that feature must still be in development.