HDPDO Thread Lift
Non-surgical facelift without incisions, fillers, or significant downtime.
Rejuvenate your entire face with an HDPDO thread lift in Rancho Cucamonga. An HDPDO thread lift is a minimally-invasive facelift using 100% dissolvable threads. This innovative new facelift alternative instantly lifts and tightens dull, loose skin without major surgery or significant downtime.
An HDPDO thread lift restores your face's natural beauty
As we age, our skin begins to sag. We most typically lose volume in the midface, cheeks, and orbital area, causing the appearance of saggy eye skin, jowling, and turkey neck. Deep lines begin to creep up around the eyes, the brow becomes heavy and furrowed, and skin becomes thin and crepey. These signs of aging can be incredibly frustrating, as we feel younger and healthier on the inside than our outward appearance conveys.
An HDPDO thread lift turns back the hands of time by restoring the face to its natural V-shape and creating a smoother, tighter, more youthful appearance. An HDPDO thread lift works on two levels: it lifts the skin and pulls it taught against the muscle & bone and improves skin's tone by promoting collagen and elastin production.
What is HDPDO thread?
HDPDO threads are high-density PDO threads that are designed to last longer than traditional PDO threads. HDPDO threads are FDA-approved and made in Italy.
PDO (poly-dioxanone) threads have been used safely and effectively as sutures in a variety of medical settings for decades, and non-surgical facelifts using PDO threads (a.k.a. PDO thread lifts) have long been embraced internationally in places like Europe.
There are different kinds of HDPDO threads (smooth, barbed, and convergent), which your surgeon will discuss in detail with you. Barbed and convergent threads are most commonly used for HDPDO thread lifts because the barbs are able to grasp the skin subdermally and pull it taught. There are pros and cons for each type of thread, and your surgeon will help determine the best one for your thread lift.
Benefits of an HDPDO thread lift
An HDPDO thread lift has many benefits, including:
Rejuvenates skin by promoting collagen and elastin production
Lasts for up to two years
HDPDO thread is specially designed not to break
HDPDO threads resist enzymatic attack, minimizing risk of infection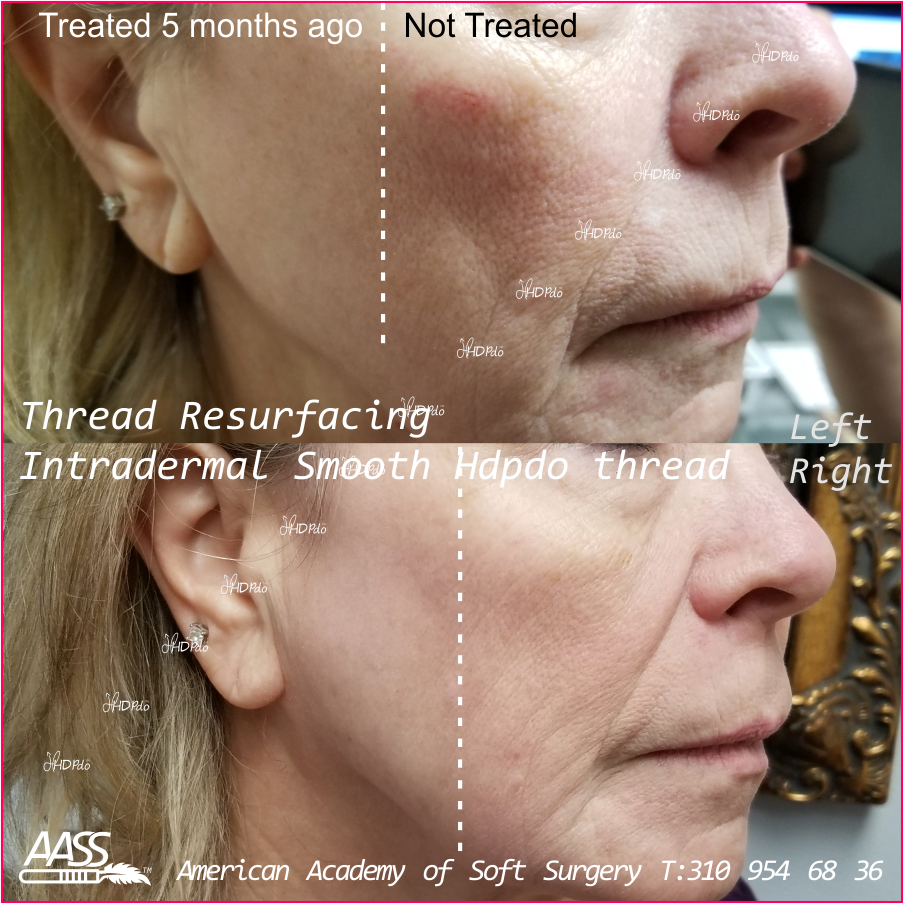 Results of skin treated with an HDPDO thread lift after 5 months (left) vs untreated skin (right). Photo courtesy American Academy of Soft Surgery.
Where can HDPDO threads be used?
HDPDO threads are effective at tightening, lifting, and rejuvenating skin in the following areas:
Neck
Jawline
Midface
Nasolabial folds (a.k.a. "marionette lines")
Eyes
Brow
How does an HDPDO thread lift compare to other facelifts?
To better understand the pros and cons of an HDPDO thread lift, we compare it to liquid facelifts, traditional facelifts, and PDO facelifts.
HDPDO thread lift vs liquid facelift
Until now, a "liquid facelift" using dermal fillers has been the primary alternative to a surgical facelift. While dermal fillers are effective at temporarily restoring volume to aging areas of the face, they aren't able to provide the level of lift and tightening that an HDPDO thread lift can achieve. Furthermore, fillers can lead to an over-volumized look if performed incorrectly. HDPDO threads can be placed in areas where fillers aren't effective, like the glabella (forehead).
HDPDO thread lift vs traditional facelift
For patients seeking a non-surgical alternative to a traditional facelift, an HDPDO thread lift is an obvious choice. A thread lift not only tightens sagging facial skin, but the threading technique stimulates skin's fibroblasts to produce more collagen, which gradually improves the appearance of fine lines and wrinkles.
While an HDPDO thread lift is a great alternative to a facelift, patients with severe skin laxity will benefit most from a traditional facelift. Since a facelift is performed using incisions, it is also far more permanent than an HDPDO thread lift.
HDPDO thread lift vs PDO thread lift
The technique used for an HDPDO thread lift is nearly identical to a PDO thread lift, however, an HDPDO thread lift has a few key advantages: the procedure doesn't require a cannula, the thread is made of a bacteria-resistant, high-density material to prevent breaking and infection, and the results last for up to two years.
About your thread lift procedure
HDPDO thread lifts are performed in-office with a local anesthetic. Before treatment, your surgeon will mark the areas on your face you wish to enhance. He or she will then insert the HDPDO thread, which comes pre-loaded in a very thin needle, through your skin. If your surgeon is using barbed thread, the barb will catch in the skin beneath the wrinkle, tightening the loose skin. Your surgeon will then cut off the thread at its entry point, making it completely hidden within your skin. Thanks to a topical numbing cream that is applied to your skin, there is minimal discomfort associated with this procedure.
What is HDPDO thread lift recovery like?
Downtime from an HDPDO thread lift is roughly 3-7 days. During this time, you should hold off on any dental treatments and sleep on your back to avoid applying unnecessary pressure to your face. Most of our clients are pleased with their results after just one treatment and maintain their results with a follow-up treatment after 18-24 months.
Schedule your Inland Empire thread lift today
Experienced cosmetic surgeons Dr. Jacob Haiavy, Dr. Irene Tower, and Dr. Emma Ryan have nearly 40 years of combined experience performing cosmetic surgical and non-surgical procedures. To schedule your HDPDO thread lift consultation with them, contact our Rancho Cucamonga practice online or call (909) 987-0899. We look forward to discussing your thread lift options!