Have a Near-Scarless Facial Rejuvenation Procedure with the Endoscopic Facelift in Chino Hills, CA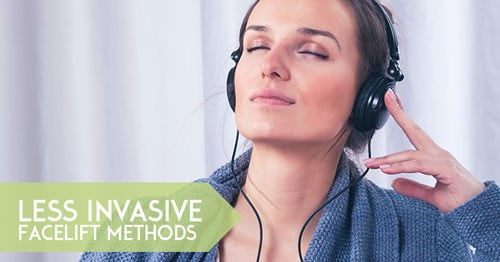 If you've thought about getting a facelift to rejuvenate your appearance, consider the benefits of an endoscopic facelift. This innovative procedure is less invasive than traditional facelift procedures because it involves making very small incisions in the scalp rather than a longer, extended incision. The effects of gravity and the aging process often cause the facial tissues to sag and drop and some people lose the fat pads that create a youthful contour, which can end up with a hollowed appearance. An endoscopic facelift in Chino Hills, CA will lift and reposition the skin to reshape the face and help you maintain a more youthful look.
Do I Need an Endoscopic Facelift?
If you are self-conscious about your appearance because of sagging skin, droopy eyelids, or poor definition around the jawline, you may benefit from an endoscopic facelift in Chino Hills, CA. Dr. Haiavy can use a special technique to reposition the deep fat pads over the cheeks and tighten up loose facial tissues. Some of the reasons why you might need an endoscopic facelift include:
Freshen up a tired look
Lift up heavy or droopy brows
Reposition droopy cheeks
Maintain a fresh and wide-eyed appearance
Reshape the mid-face region without extensive surgery
Open up the outside corners of the eyes to create a more youthful appearance
Ideal Patients for an Endoscopic Facelift
If you have considered a traditional facelift, but did not want to accommodate for the long recovery time, you may be a better candidate for an endoscopic facelift instead. The majority of patients that benefit from this procedure are in their early 40s or older, and want to restore some of the facial contours they had in their youth. Ideal patients are non-smokers that are maintaining a relatively healthy lifestyle. The face is strengthened across several layers with this procedure and is customized for the patient. The procedure can be combined with a neck lift and other facial surgeries for even better results. If you are concerned about some the effects of aging taking their toll on your appearance, you may be a good candidate for the endoscopic facelift. For more information about facelift procedures, schedule your consultation with Dr. Haiavy today!