Breast Augmentation Patients Find Support on Internet Forums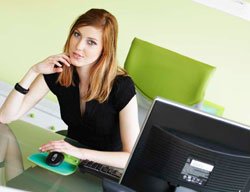 Breast augmentation patients can learn more about the procedure  through participation in forums and message boards. A new study finds that these online communities also provide women with emotional support.
The study found that overall the forums are a positive experience for women. "Through electronic postings, they cared for and nursed each others' anxiety and feelings throughout the whole process," wrote the researchers at Oslo University Hospital.
Online forums have made it easier for patients to connect and communicate with others interested in breast augmentation. The researchers suggested that for women who are looking for information on the procedure, the Internet "is one of the most important or perhaps the most important, source of knowledge on the topic."
The women used forums and message boards to share information and experiences on breast augmentation and to examine their reasons for choosing the procedure.
The message boards are also a place for getting support and building relationships as well. "The most profound element of the forum culture was the provision of support to other women," the researchers wrote. "By sharing and exchanging thoughts, the women nursed each other in terms of their doubts, bitterness, pain, sadness, excitement, elation, and happiness."
The study found the forums offered women support throughout the process. For instance, before surgery women discussed how they were making decisions with regard to implant size, profile, shape, placement and material. After surgery, discussions included their experiences with soreness, swelling, pain and postoperative self-care.
Women on the message boards also discussed relationships with their self-image and their surgeons.
The researchers located the online forum they studied using Google. Here are a few popular breast augmentation forums:
Learn more about breast augmentation in Rancho Cucamonga.