5 REASONS WHY BREAST AUGMENTATION IS STILL THE TOP COSMETIC SURGERY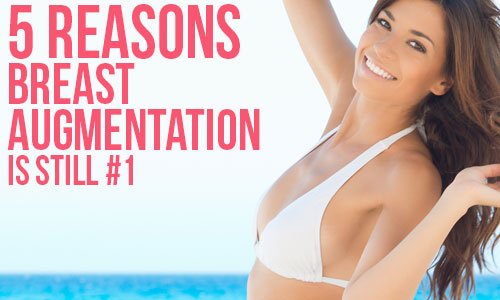 Breast augmentation has not been outranked as the top cosmetic surgery procedure for six straight years ever since silicone made its strong comeback in 2006. How has this breast enhancement procedure sustained such impressive numbers? Here are some factors that definitely have a huge impact on its success.
#1 Breast Implants Have Been Carefully Studied for Safety
Extensive studies have been carried out on both kinds of implants and each has been approved by the FDA. These implants have been proven safe in case of rupture and haven't been linked to breast cancer or disease of connected tissue.
#2 A Woman Can Personalize Her Results
Women have many options available to them so that they can personalize their results. They are able to choose their ideal implant type, material, shape, size, and placement. The newest FDA approved implants on the market are the new silicone gel implants – known as teardrop or gummy-bear implants.
#3 Women are Encouraged by the Glowing Reviews of Past Patients
A few months ago, the ASPS published a study showing that 98% of women had a breast augmentation that either met or exceeded their expectations. 90% of the women surveyed also said that they experienced an increase in self-esteem after their procedure. Breast augmentation has also been linked to additional benefits such as a better sex life.
#4 Surgery and Recovery are Both Relatively Quick
Most of the time, a cosmetic surgeon can have you in and out of the building in under two hours. Most women are then able to return to lighter work within a few days of her surgery. Higher levels of activity and exercise are achievable after just a couple weeks.
#5 Breast Implants Provide Long-Lasting Results
Breast implants are very durable and are designed to last. Women who have undergone a breast augmentation are experiencing long-lasting results that can last for decades without requiring any regular maintenance or replacement.