VISIA Skin Analysis in Rancho Cucamonga
By "looking under the hood" of your skin with VISIA, the skin specialists at Inland Cosmetic Surgery's Ahava Medspa can make expert recommendations & customize the perfect treatment plan for you
We are excited to introduce the VISIA Digital Skin Analysis System. This new imaging system, which has been featured on the Tyra Banks Show, is a diagnostic tool that allows us to visualize and measure skin blemishes and wrinkles above and below the surface of your skin.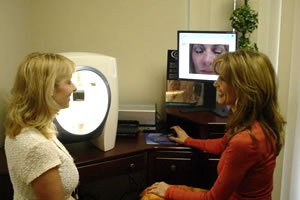 This allows us to customize a skin care treatment program for you to specifically target your problem areas with complexion, age/dark spots, UV damaged areas, wrinkles and more.
By visualizing the damaged areas beneath your skin, we are able to prevent further damage and restore your skin's youth, texture and health. With this added capability of the skin analyzer, we can systemically diagnose, develop a holistic plan, and address all your cosmetic skin needs, not only by surgery but also by non-invasive laser care. To find out more information and see how the VISIA system can benefit you, contact us to schedule your complimentary skin care consultation.
How does VISIA work?
VISIA™ Digital Skin Analysis is an exciting technological innovation that uses a multi-spectral imaging system to identify problem areas of your complexion, allowing for a customized skin treatment program that specifically targets these areas.
The VISIA Digital Skin Analysis is the first diagnostic tool to provide clinical measurement of surface and subsurface epidermal irregularities and pigment conditions. VISIA's photographic technology captures a clear, multi-dimensional image of select facial areas, while examining the severity of various age-related conditions such as:
Fine lines and wrinkles
Hyperpigmentation (age/dark spots)
Enlarged pores
Skin tone evenness (color variation)
Porphyrins (evidence of bacterial growth)
Sun damage (UV spots)
Here at Inland Cosmetic Surgery and Ahava Medspa, we recommend that a Digital Skin Analysis be performed during your initial one-on-one Skin Evaluation, as the results of the analysis provide the framework for creating a personalized facial rejuvenation programs that are designed to obtain optimal improvement in your skin color and texture. In some cases, an additional analysis may be performed following a recommended treatment program.
Once your VISIA imaging session is complete, we will provide you a detailed complexion report that focuses on specific problem areas, compares your results with others your age, and includes treatment recommendations specifically for your complexion.
How long does it take to perform a VISIA Digital Skin Analysis?
We usually schedule one hour for a VISIA Digital Skin Analysis during a one-on-one skin evaluation. During the appointment, one of our experienced providers will examine your complexion and ask you to complete a Skincare History form to become acquainted with your skincare routine, allergies and any skin health issues. She'll discuss how you'd like to improve your skin, perform the Digital Skin Analysis, discuss product and treatment recommendations based on the results and also address how you can improve your complexion through nutrition.
How often do I need to have a VISIA Digital Skin Analysis?
A copy of your initial VISIA Digital Skin Analysis, which provides a baseline on the health of your skin, will be filed in your skincare chart. Depending on your skin condition and goals, we may recommend an additional analysis to measure the effectiveness of treatment and determine further treatment options.
Will I experience any discomfort during the session?
No. There is no discomfort involved in the VISIA Digital Skin Analysis.
Is there a minimum age recommendation for a VISIA session?
No. A VISIA Digital Skin Analysis can be done at any age. It is typically done when a skin health issue needs to be addressed with a facial rejuvenation program or a preventative program.
What is the cost of a VISIA Digital Skin Analysis?
To encourage as many individuals as possible to undergo this simple process, we charge only $45, which includes a one-on-one skin evaluation with our experienced medical aesthetician and the VISIA Digital Skin Analysis.
We offer the most comprehensive assortment of clinically proven products and treatments. You can feel comfortable knowing that the most appropriate combination will be recommended for your unique skin condition.
We offer VISIA Digital Skin Analysis at our state-of-the-art surgery center in Rancho Cucamonga, in the heart of the Inland Empire.  Contact us today to learn more or schedule your private consultation!