Ultherapy Isn't Just for Faces: 3 Other Areas Where it Can Turn Back Time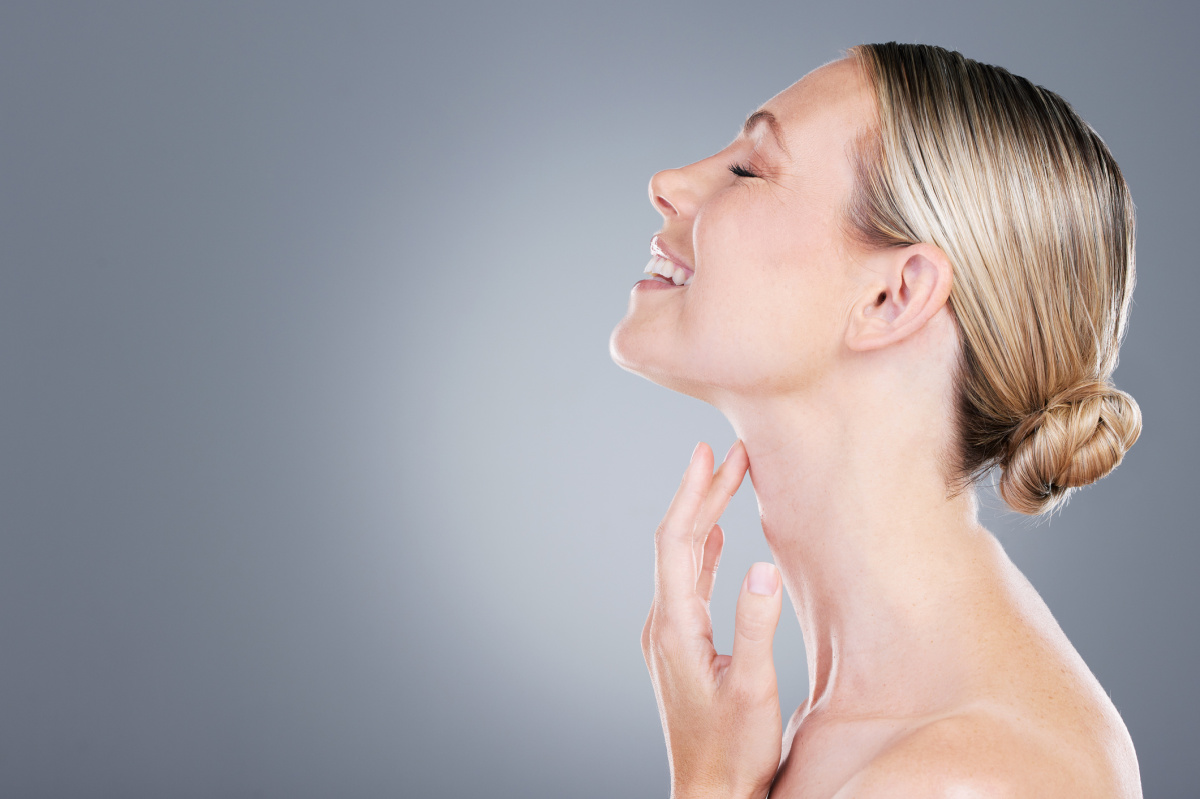 If you're paying attention to facial rejuvenation options, you may already know that Ultherapy skin tightening can turn back the clock throughout the aging face. This treatment allows us to visualize and target deeper tissues with ultrasound energy, stimulating collagen growth. Because it bypasses your outer layer of skin, Ultherapy requires zero downtime.
But Ultherapy's magic is not limited to the face! In today's blog, we're sharing the 3 additional areas where Ultherapy can turn back time and keep you looking fresh—all with a treatment you can squeeze into your lunch break.
1. The double chin: Ultherapy lifts excess skin & smoothes wrinkles
It may seem that gravity and fat deposits are causing the extra volume below your chin, but for many patients, the "double chin" is caused by skin laxity. Ultherapy treats sagging skin at the foundational level, prompting your body to selectively "heal" deep tissues, rebuilding the collagen and elastin in your skin. In this way, Ultherapy can create a stunning transformation by lifting the skin below the chin and visually emphasizing your natural jawline. The best part? The results appear gradually over the course of 2-3 months, so you will enjoy a dramatic change with a natural outcome that others can't quite put their finger on.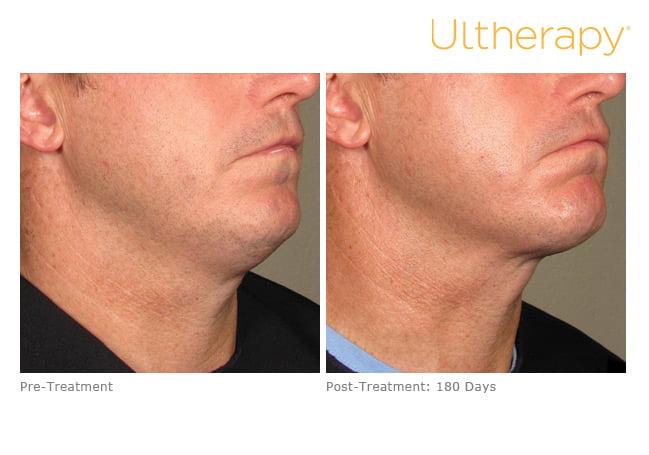 2. The turkey neck: Ultherapy firms and lifts
Early signs of aging in the neck, which may have you cloaking yourself in scarves and turtlenecks, don't require surgical intervention. If you are distracted by wrinkles or thinning skin in your neck, Ultherapy can lift and firm your skin to help reverse "turkey neck" before it progresses further. The precise Ultherapy handpiece combined with tissue visualization allows us to customize your neck rejuvenation treatment where you need it most for a natural-looking result—and a serious confidence boost.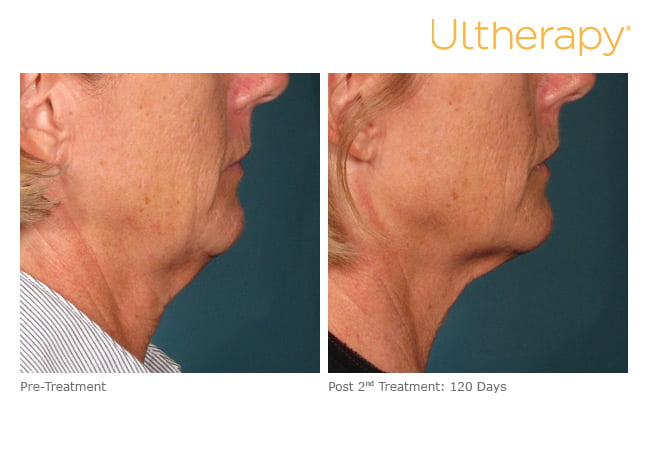 3. The décolletage: Ultherapy revitalizes crêpe-like skin
The area from the chin to the top of the breast is delicate and quick to show age with fine lines, thinning skin, wrinkles, and folds—even if you keep your décolletage moisturized and use sun protection.
If your upper chest seems to be giving away your age, skip the over-the-counter topical creams whose results will be subtle at best. Ultherapy is quickly becoming the gold standard option for revitalizing the area. Since Ultherapy promotes collagen and elastin growth, it can turn back time in your décolletage not just by "lifting" the skin, but also by strengthening the skin's structure. After treatment, the skin appears firmer, more evenly toned, and smoother.
As with Ultherapy in any area, many are happy with their results after just 1 treatment, though repeat treatments may be desirable for upkeep or to take your results even further.
Many patients are happy with their results after just 1 treatment, though repeat treatments may be desirable for upkeep or to take your results even further.
How do I know if Ultherapy is right for me?
If you are ready to see improvement in your decolletage, neck, chin, or face, but you're not ready for a facelift or neck lift, then you are likely a good candidate for Ultherapy. Many patients like to use Ultherapy as preventative maintenance at a younger age, when skin is just beginning to visibly lose volume. For those who have already undergone lift surgery but want to touch up their results, Ultherapy can enhance and extend the smoothing effects of a surgical lift. And for some, a customized Ultherapy treatment may even prevent the need for surgery later in life.
Choose a cosmetic surgeon with extensive experience using Ultherapy for nonsurgical lifting and skin tightening, and they can help you determine the most effective treatment plan for your needs and your lifestyle. An experienced cosmetic surgeon should lay all of your options on the table so that, together, you can choose the best treatment for your anti-aging goals.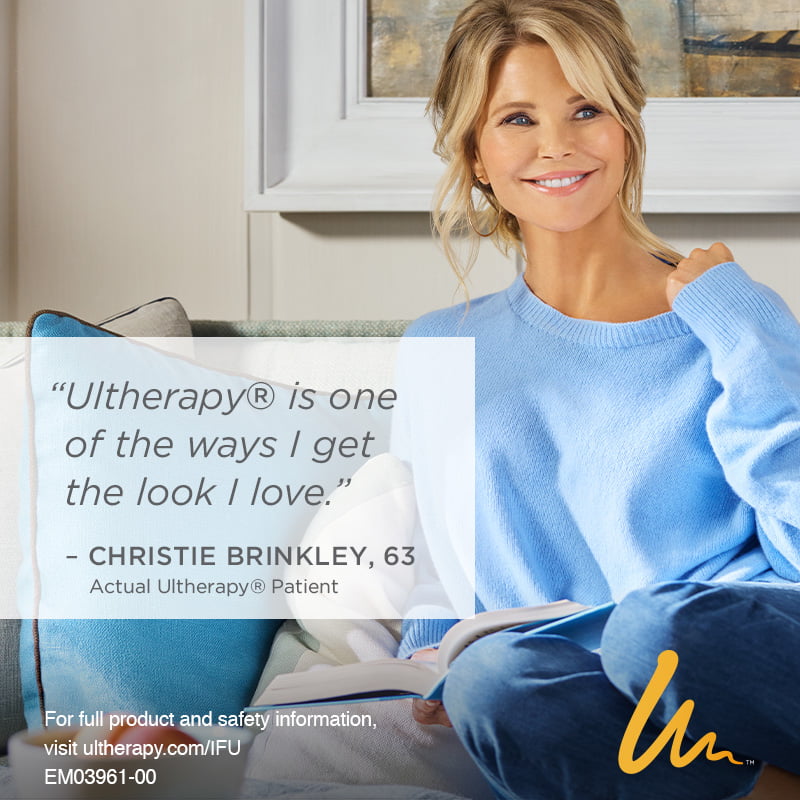 Find out if Ultherapy is the treatment for you
To learn more about Rancho Cucamonga Ultherapy treatment areas, cost, and details of treatment, you can read all about Ultherapy here. When you are ready to schedule a consultation at our Ahava medpsa with our Rancho Cucamonga aesthetics team, contact us online or by phone at (909) 987-0899. We can't wait to help you look and feel your best!