Eyebrow Microblading in Rancho Cucamonga
Semi-permanent eyebrow contouring with a remarkably natural look
Sparse, thin or uneven eyebrows are a common source of frustration for many women who work hard to look their best each day. You can try to "fill in the gaps" with pencils and powders, but this takes up precious time every morning and getting a natural look is pretty tricky. Permanent tattoos are a maintenance-free option, but the solid ink pattern isn't for everyone.
A better solution? Microblading. This semi-permanent procedure tints the eyebrows using precise brush strokes, creating the natural look of full, youthful eyebrows. Also known as 3D Embroidery or Hairstrokes, microblading is extremely popular in other countries and is quickly becoming the eyebrow tinting treatment of choice in the United States.
How does microblading work?
Microblading is a specialized tattooing technique that implants pigment into the skin using hair-like strokes. Our esthetician first draws a temporary stencil on the brow area to mark the strokes she will make to create a beautiful, natural eyebrow contour. Then, using a handheld tool, she will apply your chosen shade of pigment in short "strands" to mimic the appearance of real eyebrow hair.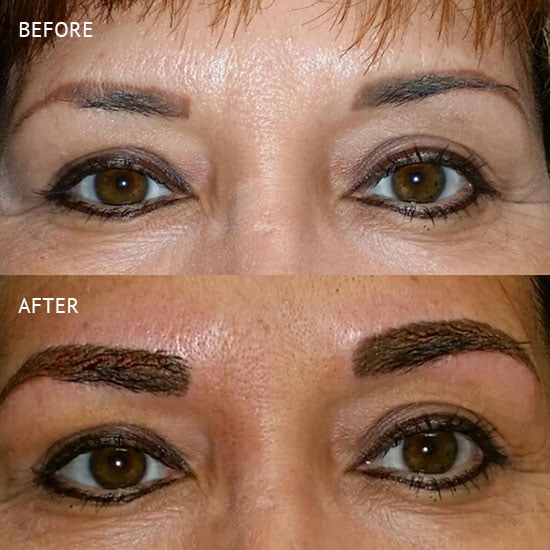 Inland Cosmetic Surgery Microblading Patient*
The procedure is performed using topical, or in some cases local, anesthetic to ensure your comfort, and you can return to normal activities right away after a microblading treatment. Our Licensed Esthetician, Marlene Corrington, has more than 20 years of experience and is double certified in permanent makeup application. With skill and precision, she can use microblading to achieve a number of improvements:
Replenish a sparse eyebrow appearance
Close noticeable gaps in the eyebrow contour
Enhance shape and definition of eyebrows
Achieve your desired eyebrow look so you don't have to apply makeup to your brows every day
Fill in thinning areas of the scalp
How long do results last?
Microblading tattoos don't go as deep as a regular tattoo, so results are considered "semi-permanent" and will eventually fade. On average, microbladed eyebrows last 1 to 3 years before a touch-up is needed.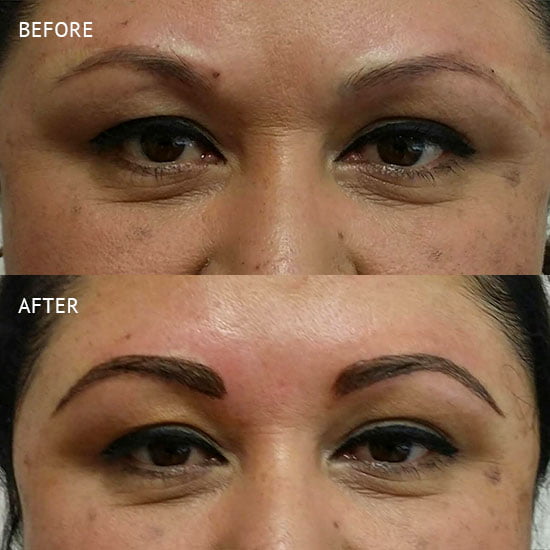 Inland Cosmetic Surgery Microblading Patient*
How much does microblading cost?
At Ahava Medspa at Inland Cosmetic Surgery in Rancho Cucamonga, microblading for the eyebrows begins at $475 per treatment. We frequently run specials on permanent makeup and other medical spa treatments, so be sure to check our specials page to see our current offers.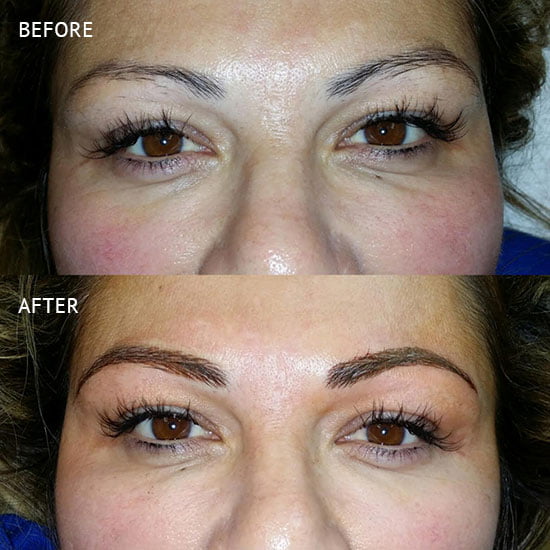 Inland Cosmetic Surgery Microblading Patient*
Get started at a personal consultation
Ready to enjoy a fuller look and refined shape to your eyebrows? Schedule your consultation with Marlene Corrington. She will be glad to explain how microblading can help you improve your eyebrow contour and discuss all of your options for permanent makeup.
Contact us today to schedule your microblading consultation