Excel V+ laser treatment in Rancho Cucamonga
Excel V+ offers the most advanced aesthetic technology, combining two powerful lasers to target and improve the appearance of visible veins, discoloration, and fine lines and wrinkles. Patients in Rancho Cucamonga love this non-surgical, minimal-downtime skin rejuvenation option to achieve a clearer, more refreshed appearance.
What does Excel V+ treat?
Excel V+ treats vascular skin concerns, signs of aging, and even scars. In total, this laser treatment addresses more than 20 cosmetic and dermatologic concerns on the face and body, including:
Facial veins
Periorbital veins (veins around your eyes)
Leg veins and vessels
Spider veins
Rosacea
Inflammatory acne
Brown/age spots
Scars/acne scars
Birthmarks and port wine stains
Bruising
Fine lines and wrinkles
Excel V+ can benefit a range of skin types and tones, and it can even be used to remove unwanted growths like skin tags or to treat nail fungus.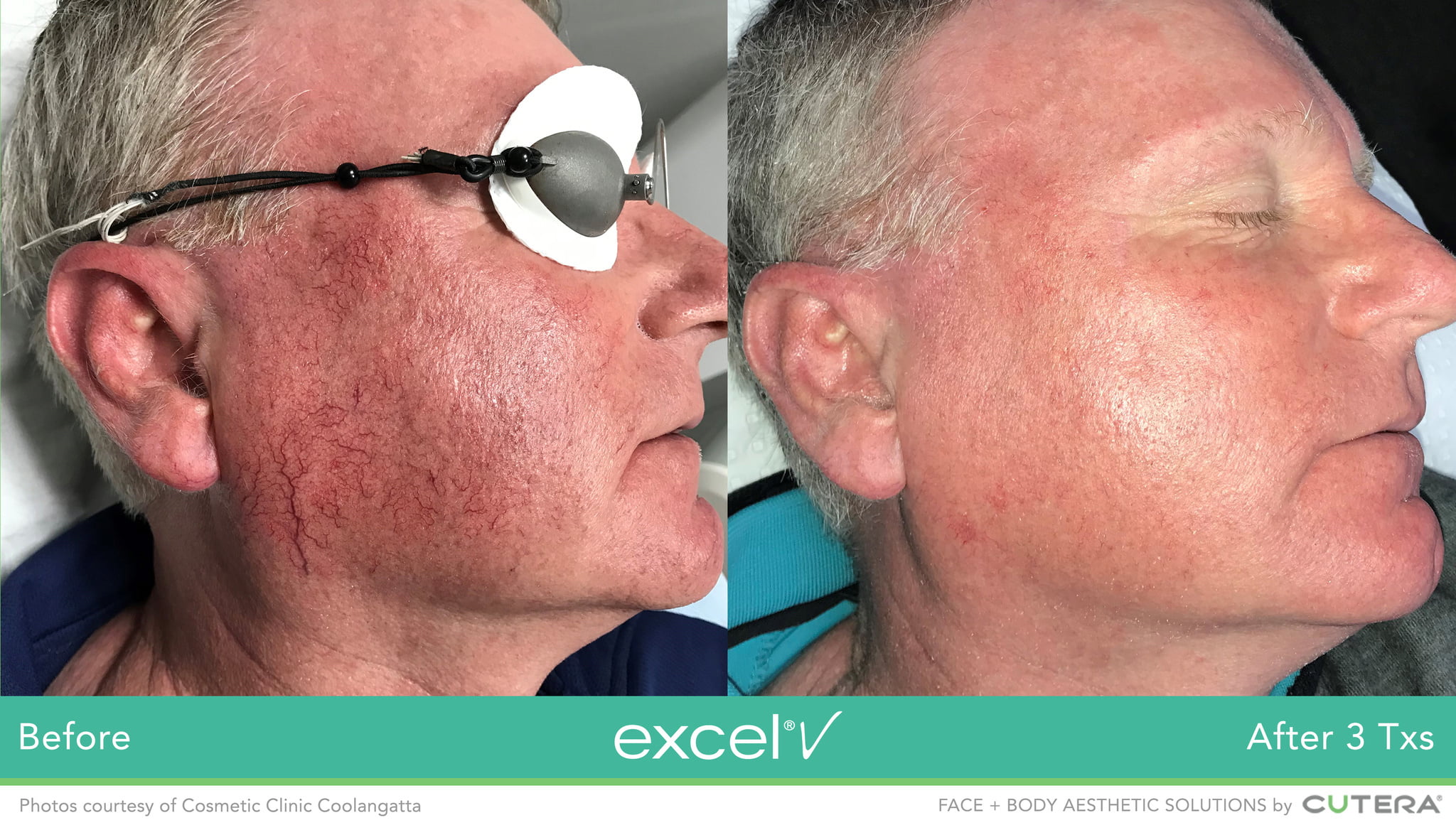 How does Excel V+ work?
At Ahava Medspa in Rancho Cucamonga, our experienced aesthetic specialists will evaluate your skin and select one (or both) of Excel V+'s two non-ablative lasers to meet your needs:
The 532nm laser targets blood vessels closer to the skin and is recommended for treating facial veins, spider veins, and discoloration.
The 1064nm Nd: YAG laser targets deep blood vessels and darker pigmentation and is recommended for treating scars, improving skin tone and texture, and boosting collagen production.
We customize the laser used and the treatment settings to target the depth and color of your skin concern(s), and many patients benefit from a combination of the two lasers for optimal results. Once settings have been customized, your provider will move the handpiece over your skin, delivering pulses of laser energy to the treatment area.
Excel V+ targets hemoglobin and/or melanin to effectively treat skin imperfections without causing thermal damage to the surrounding tissue.
What are the benefits of Excel V+ for laser skin resurfacing?
Excel V+ lasers are incredibly precise and clinically proven to safely and effectively treat most common skin concerns. Patients enjoy quick treatment times with Excel V+—most skin concerns can be addressed in 10-15 minutes. Unlike other non-surgical skin rejuvenating treatments, which may require a number of treatments to achieve visible results, it's typical for most patients to see improvement with a single Excel V+ treatment.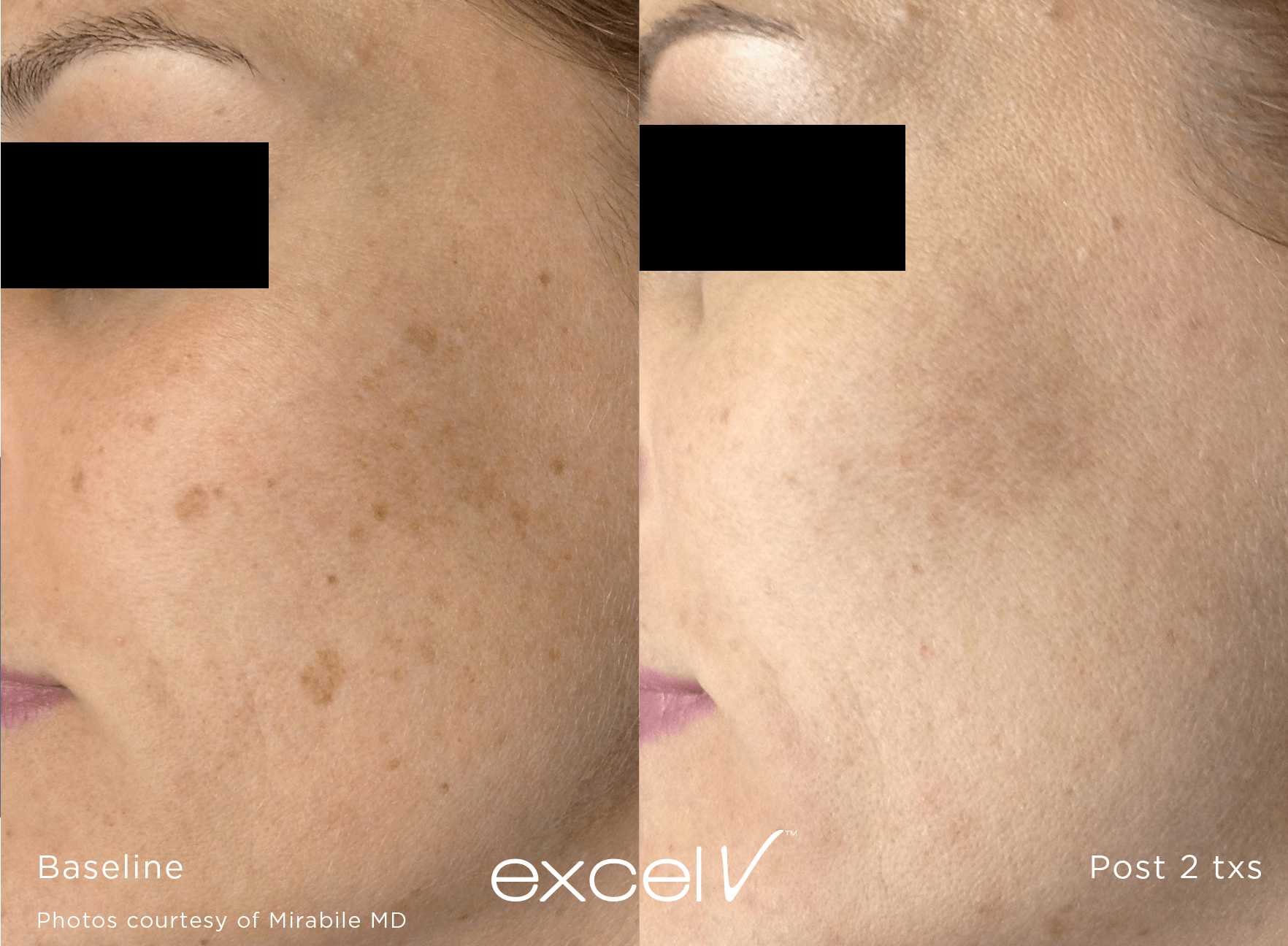 How many Excel V+ treatments do I need?
Many patients in Rancho Cucamonga require just 1-2 Excel V+ treatments to achieve complete laser skin rejuvenation. It is common to see significant improvements 2-6 weeks following treatment, however complete results may take a few months. Depending on your individual goals and skin concerns, up to 3 treatments may be necessary to achieve the results you are looking for. Our medspa team will be able to advise you further during your consultation.
Is Excel V+ laser treatment painful?
During Excel V+ treatment, patients feel mild heat pulses, like a soft rubber band snap, as laser energy is delivered below the skin's surface. We can apply a topical numbing cream if you prefer, though it's generally not needed. Depending on your Excel V+ treatment, a cooled treatment tip may be applied to the skin to protect the area and enhance your comfort. Most patients feel Excel V+ treatment is easily tolerated.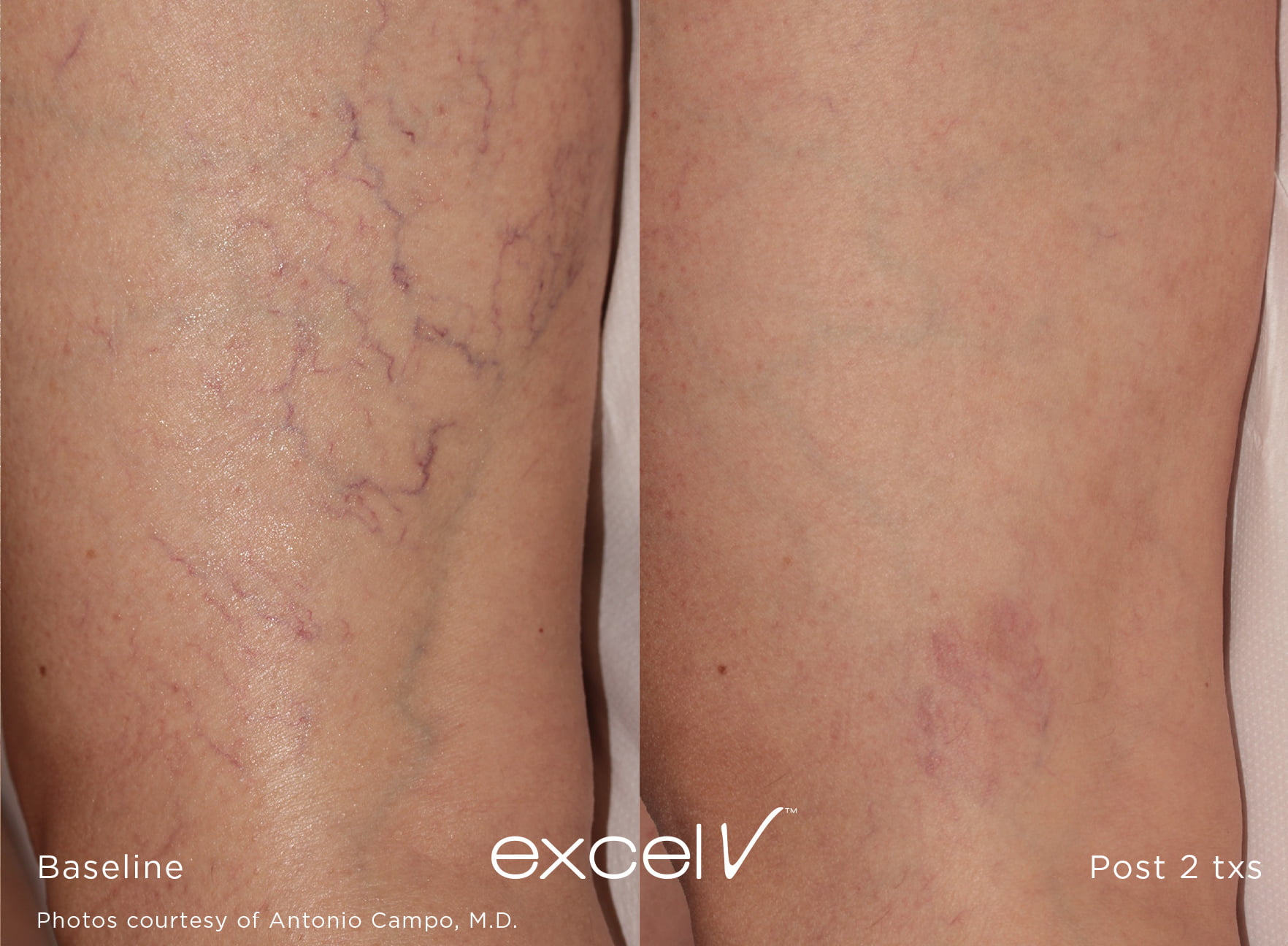 Is there any downtime required with Excel V+ laser treatment?
Typically, patients can resume their normal activities and apply makeup immediately following Excel V+ treatment. For full face treatments, we recommend a few days of social downtime, as most patients experience mild redness and swelling that peaks 24 to 48 hours after treatment and typically resolves within several days. Treated brown spots will darken and slough off 3-5 days after treatment, so many patients prefer to take some social downtime during this process or simply conceal it with makeup.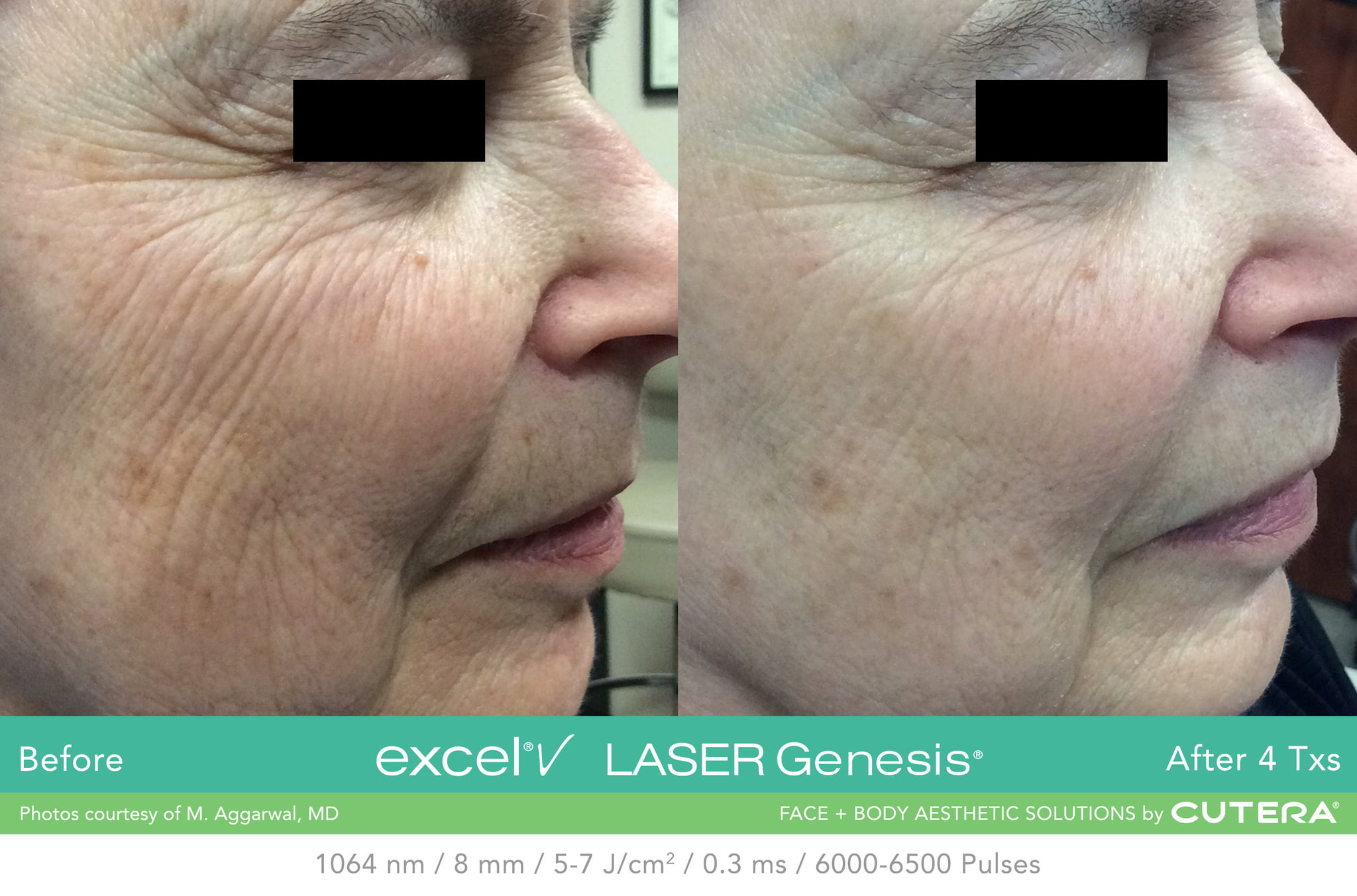 Revitalize your skin in Rancho Cucamonga
Our experienced team of aesthetic specialists at Ahava Medspa by Inland Cosmetic Surgery has spent years vetting the safety and efficacy of laser skin treatments, and we are here to help you achieve the refreshed, more youthful skin that you deserve with Excel V+ laser skin resurfacing. To schedule your skincare consultation, call us at (909) 987-0899 or contact us online.