Meet Cosmetic Surgeon, Whitney Florin, MD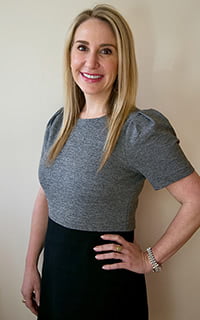 Offering compassionate care & gorgeous results
Whitney Florin, M.D. is a female cosmetic surgeon at Inland Cosmetic Surgery specializing in breast, facial, and body cosmetic surgeries and non-surgical procedures, such as non-surgical rhinoplasty, chin augmentation, and facial contouring with fillers.
Dr. Florin is a California native happy to be back in her home state. She grew up in Orange County, but her desire to explore took her to Duke University for her undergraduate degree. At Duke, she was on the Dean's List and in Phi Eta Sigma Honor Society for academic excellence.
The office staff was amazing, Dr. Florin was wonderful to work with before and after my procedure. Very friendly, supportive and informative!! Dr. Florin really listened and patiently addressed all my concerns, questions etc.Real Inland Cosmetic Surgery patient
Dr. Florin then spent ten years in the Big Apple, specifically at Columbia University Medical Center, where she obtained her Medical Degree and Degree of Surgery. During this time, Dr. Florin was accepted into the prestigious Omicron Kappa Upsilon (OKU) Honor Society based on her academic achievements.
She continued on at Columbia for her internship in general surgery and residency in Maxillofacial Surgery, where she served as Chief Resident. Dr. Florin is committed to providing care to the underserved and has participated in medical mission trips to Nicaragua, Jamaica, and Mexico to perform cleft lip and palate surgeries. During residency, she published several peer-reviewed papers in the fields of general surgery, pathology, and pediatrics.
Visit our Before & After Gallery
View Patient Results and Save your Favorites >
Dr. Florin is a third generation physician and views providing medical care as a privilege. She treats her patients with compassion and respect. After her Cosmetic Surgery Fellowship at Inland Cosmetic Surgery, Dr. Haiavy was so impressed by her work and passion for successful patient outcomes that he invited her to join the practice.
When she's not in the operating room, Dr. Florin loves rediscovering Southern California and spends her free time running with her dogs, going to the beach, and exploring restaurants.
Procedures offered by Dr. Florin
Surgical:
Non-surgical:
Facial contouring and rejuvenation with fillers
Non-surgical chin augmentation
Non-surgical jawline augmentation
Lip injections
BOTOX for excessive sweating (hands and armpits)
Dr. Florin's Education
 Cosmetic Surgery Fellowship Program, Inland Cosmetic Surgery
Columbia University Medical Center (NYPH), Oral and Maxillofacial Surgery Residency
Columbia University Medical Center (NYPH), General Surgery Internship
Columbia University, College of Physicians and Surgeons, Doctor of Medicine
Columbia University, College of Dental Medicine, Degree of Dental Surgery
Duke University, Bachelor of Science
Dr. Florin's Professional Affiliations & Memberships
California Academy of Cosmetic Surgery
American Academy of Cosmetic Surgery
American Association of Oral and Maxillofacial Surgeons
American Medical Association
Awards & Honors
William K. Miles, M.D. Award, American Board of Cosmetic Surgery, Award for achieving the
highest score in the country for the written American Board of Cosmetic Surgery exam, held
October 22, 2017.
Omicron Kappa Upsilon Honor Society, Columbia University College of Dental Medicine, 2010.
Dean's List, Duke University, 2001-2004.
Phi Eta Sigma Honor Society, Duke University, 2001.
Hospital Affiliations
San Antonio Regional Hospital; Upland, California
Languages
Spanish, fluent
English, fluent
Publications
Capsular contracture in breast augmentation: medical management and indications for capsulectomy. American Journal of Cosmetic Surgery, 2017.
Complications in the cosmetic use of botulinum toxin A: prevention and management. Complications in Maxillofacial Cosmetic Surgery: Strategies for Prevention and Management, 2017.
Prosthetically driven therapy for a patient with systemic lupus erythematosus and common variable immunodeficiency: a case report. Journal of Oral Implantology, accepted for publication July 2018.
Subacute necrotizing sialadenitis: a series of three cases and literature review. Head & Neck Pathology 2016.Pregnancy Tumor in a 31-Year-Old Female with a Facial Port-Wine Stain. Case Reports in Dentistry, 2015.
Acute appendicitis following laparoscopic sleeve gastrectomy in an adolescent. J of Ped Surgery Case Report, 2015.
Foreign Body Reaction to Facial Dermal Fillers: Case Report. J Oral Maxillofacial Surg 2012;70(10):2352-2355.
Stafne's bone cavity anterior mandible. New York State Dental Journal 2010;76(3):36-38.
Lectures and Advanced Training
ThermiVa Temperature Controlled Radiofrequency Inservice, January 2018
Lecturer, Complications of neurotoxin and fillers, Columbia University Medical Center, New York, NY, November 2017.
Silhouette InstaLift Training, January 2017.
Suneva Academy Bellafill Injector Training, September 2016.
Cleft lip and palate mission, Smiles International Foundation, Mexico, May 2016.
Cleft lip and palate mission, Healing the Children Northeast, Nicaragua, November 2009.